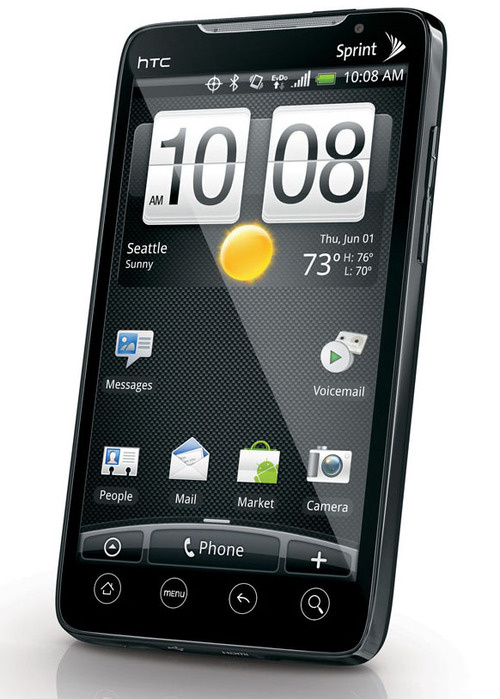 Sprint's first WiMax/4G phone has been unveiled and no one is surprised it's by HTC. What is surprising is this beauty's power and versatility. The Touch HD2 was a looker and had a Snapdragon processor but didn't pack the data speeds to keep users happy. The HTC EVO is special as it's got the aesthetics, features and the horses to really be Sprint's savior. AT&T and Verizon can keep comparing maps, but the fact is Sprint's had the strongest data network for quite sometime. Now, with the company promising to get their 4G to nearly 120 million people by year's end, this is the phone of 2010. So far.
Highlight features include a 4.3-inch screen (480×800 TFT LCD), 8MP camera, as well as a front-facing camera 1.3MP camera capable of HD video recording. Under the shell is a 1GHz Snapdragon processor and Google's sleak 2.1 version of the Android OS. Oh, but wait, there's more. The Evo is also fitted with 1GB of built-in storage, 512 RAM, HDMI output as well a kickstand for easy viewing of that 720p video. HTC's latest creation will also work as a hotspot for up to eight devices, even your iPhone or Droid. Damn these guys. With the Nexus One and HTC Evo both coming to Sprint, other carriers might want to start paying attention.
More images after the jump.