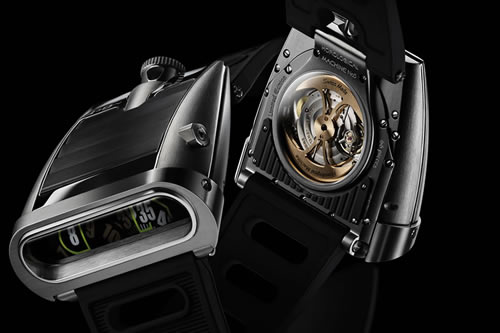 Introducing MB&F's latest Horological Machine, the HM5 On the Road Again. Though it seem relatively simple, the details are immense as expected and more complicated than one might initially think. This Seventies-inspired beauty features a hour and minute display that looks straightforward but with bi-directional jumping hours with indications reversed, reflected 90 degrees to the vertical and magnified 20%. The case design is futuristic but it's more old school than any we've seen.
The wedge-shaped case of HM5 On the Road Again pays respects to the Amida Digitrend, you know that digital LED-look display. It also takes unmistakable cues from the sleek low-slung supercars of the epoch, with louvres on their near horizontal rear windows blocking sunlight and heat. Conversely, the slide operated louvres on HM5 open to allow light in to charge on the Super-LumiNova numbers on the time disks.
Another distinguishing feature of supercars are throaty exhaust pipes. HM5 has dual exhausts to drain water, in case – like James Bond's Lotus in 'The Spy Who Loved Me' – HM5 gets wet. An inner water-resistant case keeps HM5's Engine nice and dry.
The HM5 is released as a limited edition of 66 pieces in zirconium and comes at a price of CHF 54,000 (~$58,283 USD).