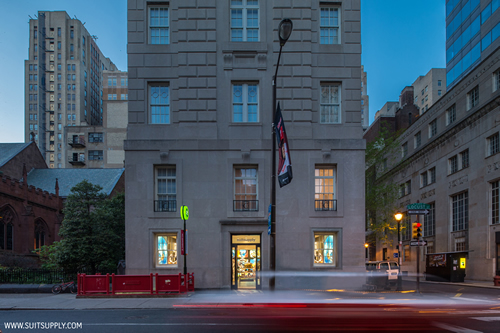 Suitsupply has just opened another US store, this time setting up shop in The City of Brotherly Love. Located in Rittenhouse Square, the setup takes over an 84-year-old former hotel in the heart of Philly, bringing out everything we've come to expect from the European clothier. Philadelphia is known to have an eclectic sense of style which will play well for a brand that looks to deliver timeless pieces with modern twists and unparalleled quality and detail.
Timing is perfect as Suitsupply's also just dropped a lot of their Spring/Summer 2013 collection. The focus this season is on rich hues and bold textures with Indigo-colored wool, linen and silk fortifying the lineup. Other standouts include denim shirts and double-breasted suits with a color palette that stretches out to burnt orange, faded red, and ochre-accented colors.
Suitsupply Philadelphia is open for business and we're looking forward to making a visit. For our Delaware Valley readers, head on over to 1601 Locust and let us know your thoughts.
Suitsupply Philadelphia 1601 Locust Street Philadelphia, PA 19103. Mon-Sat 11am – 8pm; Sun 12pm – 6pm