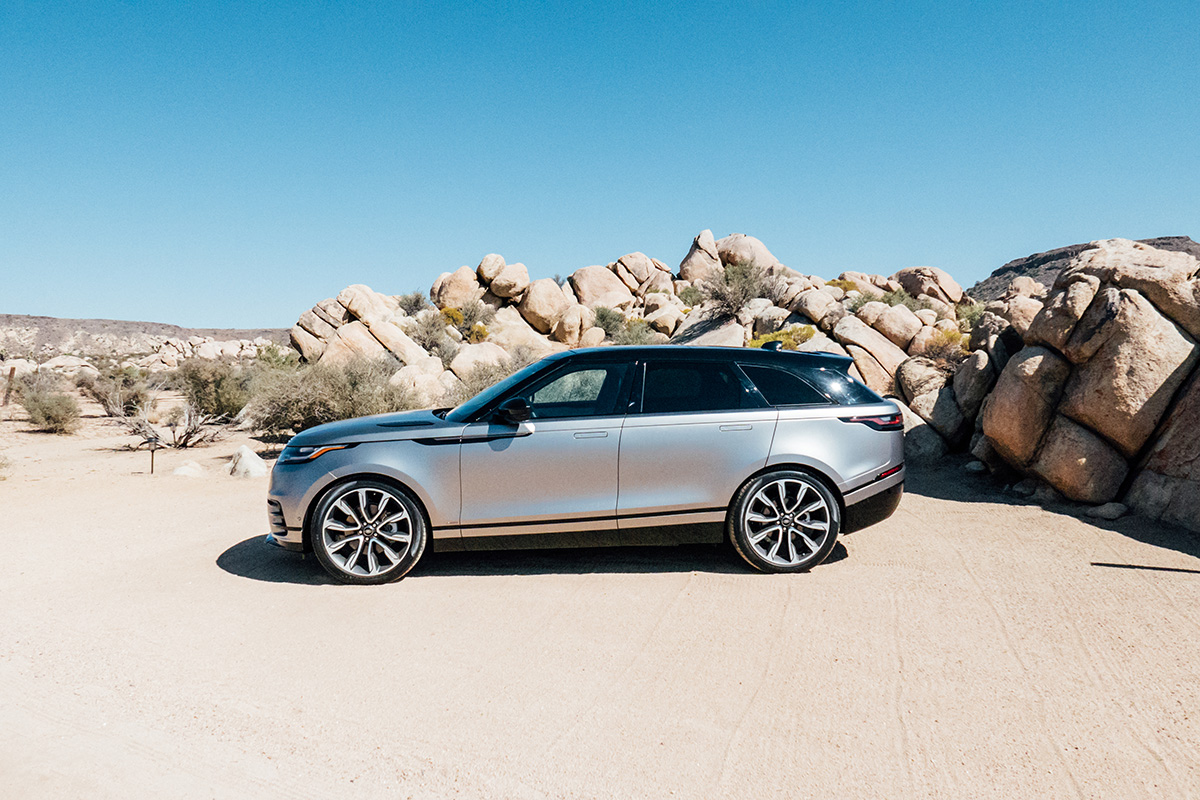 The Range Rover Velar Belongs In A Museum, But It's Built For All Of Life's Adventures
Photos by Atif Kazmi for Por Homme
Tucked in the Coachella Valley desert region and completely surrounded by mountains is Palm Springs, an underrated escape that has some of the best weather in the country and some of its best homes. Many consider it to be a living museum of mid-century modern architecture with iconic figures like Frank Sinatra, Dean Martin, Loretta Young, and Liberace having called it home throughout the decades. Put the all-new Range Rover Velar here and it fits right in. So that's what we did as we landed at the city's quaint airport before heading to the L'Horizon Hotel, one of the most historic and exclusive resorts in the Palm Springs region.
Beyond it being the latest SUV to join Range Rover's lineup, the Velar is arguably the best looking as well. Take a moment to appreciate all its details and you'll see that the luxury mid-sized SUV is a true study in modern yet timeless design. From the high belt line to its flush-fitting door handles, there isn't a wasteful line on the entire body. There are some great wheel options to really set it off (like the 22-inch 9 split-spoke ones available exclusively on the Velar First Edition), but it doesn't really need them; it makes its presence felt quite effortlessly even without all the bells and whistles. What it does need and demand with ease though is your attention. At standstill, just the Velar's stance is enough to put a smile on your face. If it can do that, then Range Rover's Chief Design Officer Gerry McGovern and the rest of his team have accomplished their goal. To them, every car that Range Rover builds — whether it's the big-body Range or the forthcoming Defender or this Velar that sits in the middle of the automaker's lineup — has to provoke some sort of emotional connection. While sitting with Mr. McGovern at dinner, I noticed that his attention to detail and passion for well-designed and -crafted items doesn't stop and start at Range Rover. His interests across fashion, watches, and architecture are what fuel the tremendous work you've seen him and his team churn out over the years. And of all the vehicles that Gerry's helped to bring to life, the Velar might be the closest representation of who he is as a person and as a designer.
Chances are you'll start cheesing well before you step into the cockpit or hit the road but let's talk about the interior that's fitted with top-tier technology and refined detailing throughout. It's so well done that you forget that Range Rover's latest creation starts at less than $50,000 USD, as it aims to fill that gaping void between the Range Rover Evoque and Range Rover Sport models. The reductionist approach we see Range Rover take on the shell of the Velar continues inside as it does away with as many knobs and buttons as possible. Instead, we see capacitive buttons and two 10-inch HD touchscreens at core of the Velar's new Touch Pro Duo Infotainment system. Leather seating comes standard but Range Rover's partnered with Kvadrat to leverage durable wool blend and suedecloth fabrics as an option as well, giving buyers the option to go for a more sustainable interior that you really won't find in any other car.
Image set courtesy of Land Rover
If there's any other mid-sized SUV that's got the off-road capabilities the Velar has, I'd like to see it right now. I'll wait. The 6-cylinder models get air suspension standard while all-wheel drive with Intelligent Driveline Dynamics helps the Velar get in and out of tough places. Couple that with its adaptive damping tech and you've got one heck of a combo. And that's coming from someone that pushed the Velar to its limit from the long stretches of highway outside Palm Springs to the rock climbs and sand roads just miles from Joshua Tree.
The Range Rover Velar is already hitting showrooms so you can go and check it out in person. Chances are you'll love it before you even take it for a spin. But until then, check out more shots of it in the gallery up top and head to the Range Rover site to build your own Velar.