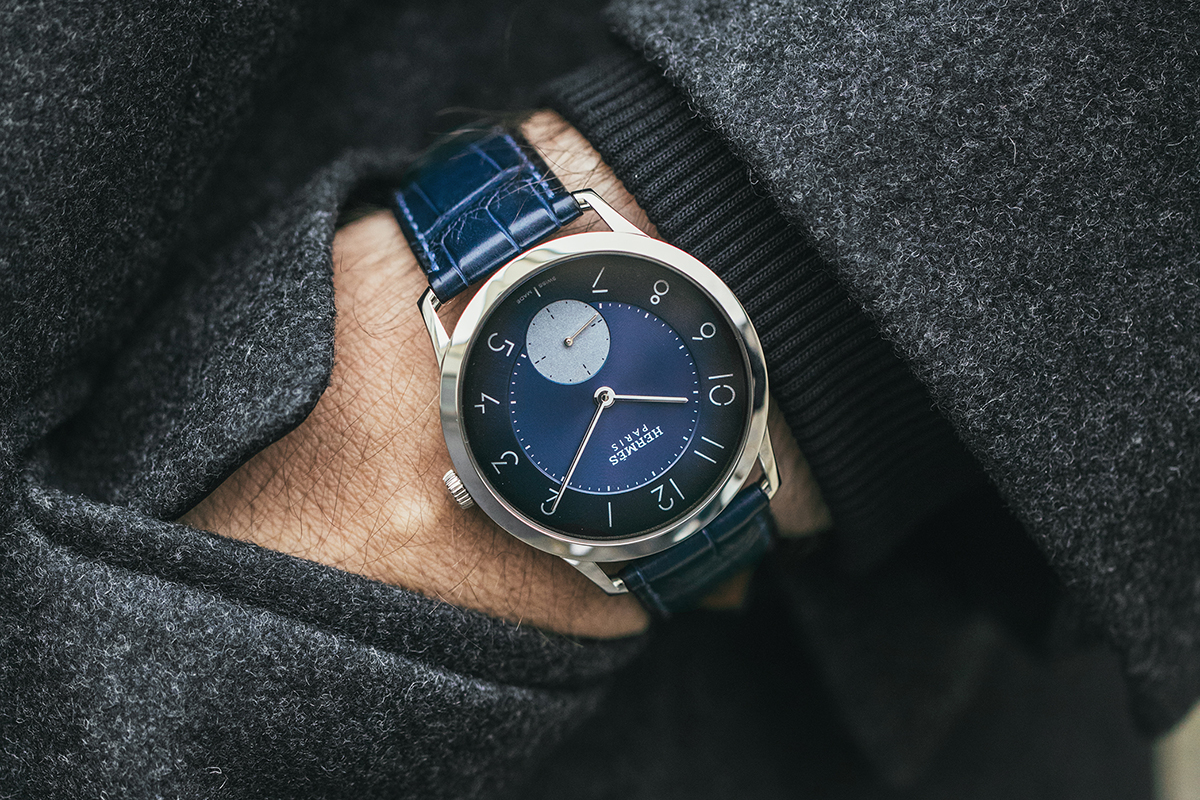 HODINKEE continues to celebrate its 10-year anniversary, this time introducing a collaboration with storied French luxury house Hermès as the two brands have introduced the Slim d'Hermès for HODINKEE wristwatch. Available in super-limited numbers and in both time-only and GMT variations, this is an important moment as it's the first time Hermès has collaborated on a mechanical wristwatch and just the third time the luxury brand has partnered on a timepiece.
Originally introduced in 2015, the Slim d'Hermès is round, thin, elegant and the one of the most stunning dress watches on the market today. The 39.5mm case featured a playful dial with a typeface created specifically for the watch. There's an effortless balance between work and play, serious and whimsical; something we haven't seen many watches do over the years. Inside the slim case is a micro-rotor powered self-winding caliber produced by Vaucher and finished exclusively for Hermès, though its base caliber, the Seed VMF 5401 is actually used in far more expensive watches from Parmigiani and Richard Mille, for example.
The Slim d'Hermès for HODINKEE keeps much of this, including the Vacher-made caliber and Apeloig-designed typeface. But all attention goes to the dial as it now comes in a rich, deep blue finish, while the seconds register is a frosted silver. The blue of the dial was no simple task as it took a multi-stage galvanic dial treatment to create. To finish things off, the smoked crystal offers a dramatic edge to the dial of the watch. The Slim d'Hermès GMT is a new addition for 2018 and completely sold out globally. Seeing the Slim d'Hermès GMT for HODINKEE gives folks one more chance to grab a highly-coveted masterpiece.
Each Slim d'Hermès for HODINKEE features that exclusive blue dial and a blue Hermès alligator strap in a color created just for this collaboration and available only on these limited edition watches.
The Slim d'Hermès for HODINKEE is limited to just 100 pieces, each individually numbered with "EDITION HODINKEE" engraved on the back around the sapphire window which showcases the beautifully finished Hermès manufacture caliber H1950. There are just 24Slim d'Hermès GMTs available as well, all through the HODINKEE Shop.