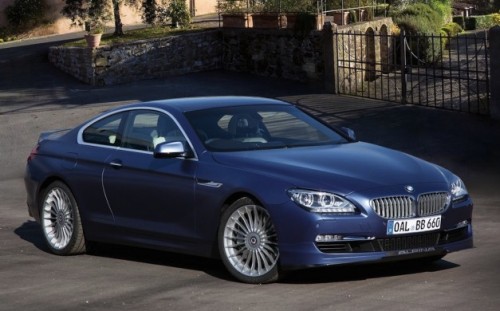 We're a long ways before the 2013 BMW M6 hits showrooms but no worries as Alpina has unveiled the B6 Coupe at the 2011 Tokyo Motor Show. It features a twin-turbo charging and intercooler system that delivers 540-hp at 5,500 rpm with a max torque of 516 lb-ft at 3,000 rpm. and mates the engine to an advanced ZF Switch-Tronic 8-speed Sport Automatic Transmission, giving the Alpina BMW B6 Bi-Turbo Coupe a 0 to 62 mph time of 4.4 seconds and top speed of 198 mph.
The B6 Bi-Turbo Coupe also comes with an aerodynamic kit that includes a front spoiler with the integrated carbon fiber front splitter and a rear spoiler with an optional rear wing. The suspension features Drive Performance Control that allow for electronically adjustable dampers and Dynamic Drive for active roll stabilization. The wheels are the 20-inch Alpina Classic rims fitted with Michelin Pilot Super Sport tires.
The interior looks equally as magnificent as the B6 Coupe gets a sport steering wheel hand-stitched in Lavalina leather, blue illuminated entry sills with logo and a trim in the classic Alpina myrtle wood. Did we mention it will come in convertible as well?
Look for the 2012 Alpina BMW B6 Bi-Turbo Coupe to hit Alpina certified BMW dealerships in the months ahead.