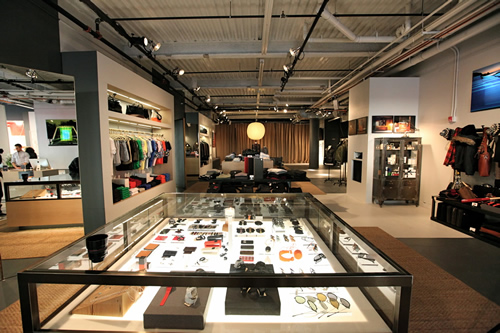 Yesterday marked the opening of the GQ at Park & Bond Holiday pop-up shop. The two have been working together through GQ's shop on the Park & Bond site but this is the first time you'll see both GQ and Park & Bond commanding a brick and mortar space. So what can you expect in terms of products? Well, there's a lot to cover including "GQ Selects," a selection of products handpicked from the pages of the magazine by the editors; GQ's "Best Stuff of the Year," as featured in the December issue; and a specially curated selection of products from Park & Bond, including the best designer brands for outerwear, apparel, denim, accessories, footwear, watches (new and vintage), tech, grooming products, and much more.
There's a wide selection of impulse buys as well, all of which are priced under $50. The holiday shopping season is definitely in full effect. And beyond all this goodness, you can also expect to see a lot of what can be found through Park & Bond's online site. It's a diverse bunch with brands like A.P.C., Filson, GANT, Jack Spade, Mackintosh, Thom Browne and many more in the fold.
Presented in partnership with American Express, the temporary retail experience will be open through December 18, though it will be closed this coming Monday and Tuesday. Open from 11am to 6pm Wednesday to Friday, 11am to 7pm Saturday and 11am to 5pm on Sunday. More looks of the space below.
GQ at Park & Bond 414 West 14th Street (Between 9th Avenue and Washington Street) New York, NY