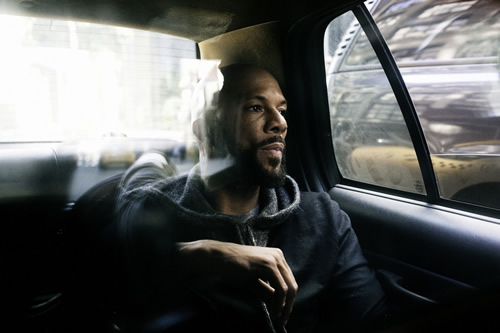 Common, the 39-year-old hip-hop veteran slash actor slash writer has had an exceptional 2011 to say the least. It's been mostly a turning of a new leaves as he's explored new avenues like authoring a book — his memoir, One Day It'll All Make Sense — and even landing a role on AMC TV show Hell On Wheels. Beyond all the new, the Chicago-bred artist stays in touch with his old self with the release of his upcoming album, The Dreamer, The Believer. Slated for a December 20th release, the album features appearances by fellow Chi-Town native John Legend, Nas and an original work by Maya Angelou. Common even takes a shot at the soft-sounding works of contemporaries with a new song called "Sweet".
Interview Magazine spoke to Common about the track, Hell on Wheels, and his memories of living with his late colleague, celebrated producer J Dilla. A few notable excerpts can be found below with the full feature available at Interview Magazine.
INTERVIEW: What made you decide that it was time for you to write a memoir? You're quite young.
COMMON: I felt like I had experienced a lot of things in the first chapter of my life, and I wanted it to inspire and motivate people, so I just started writing.
INTERVIEW: There's a part in the book where you talk about living with J Dilla.
COMMON: Yeah, we had an apartment together in LA. It was incredible to have J Dilla in your dining room making beats—it was one of the greatest experiences I've had. I used to get really, really excited when I was getting a JD beats CD. But to have that access and see him create things live every day. There were times when he was sick and couldn't work as much, but every time he was able to, he would work. He loved music.
INTERVIEW: Do you have a favorite Dilla beat?
COMMON: One of my favorite beats that he ever did for me was "Thelonius." I love the song "You Know What Love Is" by Slum Village.
INTERVIEW: Tell me about the track "Sweet." What do you like about the emotional style you describe?
COMMON: One thing I always loved about hip-hop music was the raw, boom-bap element—it felt powerful and manly. I think when I'm talking about soft, there's just certain aspects of hip-hop that inspire you to be a man and be strong, and I think that some of that sweeter stuff feels like it's based on what is popular. It's not that it all lacks talent, but sometimes you don't feel like hearing that. That music's just not speaking to me, that's all.