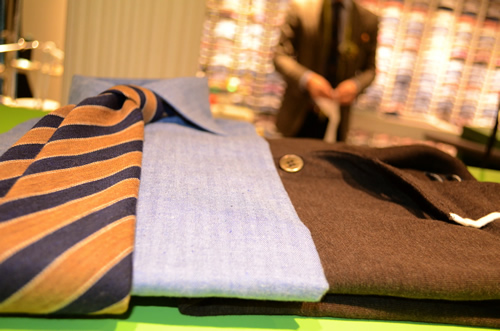 I recently stopped in to visit good friend and one of New York's best dressed men, Nish De Gruiter of Suitsupply. We got the talking and realized it's the perfect time to really shed some light on the brand. 'Tis the season. The Dutch custom clothier made its way over from Europe about six months ago and they've already begun to lay their mark on the city. The suiting is well-made and features all the proper sartorial touches. Beyond housing a long wall of suits, the SoHo boutique also has a ton of complimentary pieces such as outerwear, neckwear, footwear, travel goods and shirting. Suitsupply also features a Made-To-Measure service that competes with the best of them.
We love to work with great people that are doing great things. Suitsupply embodies all of this. Nish & company are really feeling the holiday cheers as they're looking to giveaway a holiday package to one lucky winner. The package includes one slim-fit button-down shirt with cutaway collar, a wool tie and a cotton/cashmere blend buttoned sweater. The set is exclusively styled by Por Homme with most of this stuff not even available on the site yet. Here's how you can win:
1. Follow Suitsupply on Tumblr
2. Like Por Homme on Facebook
3. Tweet the contest with hashtag #SuitsupplyPH (Twitter accounts for reference — PorHomme & MrSuitsupply)
Do two of three above to be eligible, all three to increase your chances. The contest will run until Monday, 12PM EST. If you don't win, you can follow Suitsupply on Tumblr to get a free tie with any suit purchase. Just show proof that you follow from your smartphone. Unfortunately, I'm not eligible to win because if I was, I would enter from every angle possible to snag this. More details below about the contest below.
NOTE: This contest is only open to US & Canadian residents. If the items shown above are unavailable, Suitsupply will give the winner the option to choose another comparable item. You must be 18 or older and live in the United States or Canada. This is in collaboration with Suitsupply's New York location with the winner getting receipt of package through them.