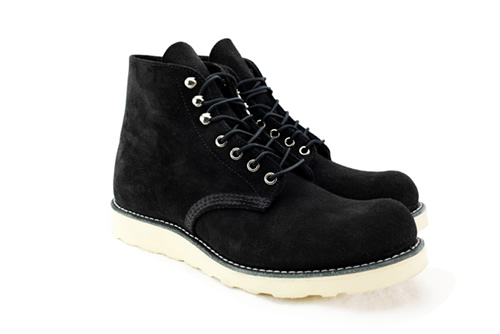 Red Wing Heritage and California's BLENDS have teamed up for this limited edition collaboration. Blends has custom designed a classic 6″ Round-toe boot in black suede to promote its Made in the USA campaign, which supports American-made brands and works to reintroduce American craftsmanship to a new generation. It's been working as more and more are appreciating the work and detail put into each Red Wing boot made.
For this project Tak Kato, Blends creative director, picked the classic 6" Round Toe with the idea to make them more casual. He chose to utilize a suede upper, a concept that has never been used on the 6" boots in the USA before. He used tonal stitches to keep the boots simple and reflect a more casual look. Simplicity and minimalism are a key aspect of Blends design concept. In addition, he added the DNA of the classic Irish Setter sports boots by adding hooks at the top as opposed to eyelets all the way up.
The BLENDS x Red Wing Heritage collaboration will be released this Saturday, December 10th as a limited edition of 150 pairs. More looks and a video highlighting the collaboration below.