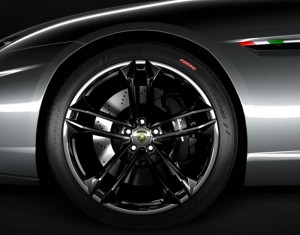 It's definitely a whole new world for Lamborghini.  They released two different teasers in the past week or so and now they've come out with it.  Automotive News Europe's learned that the company will be unveiling a four-door coupe to rival Porsche's Panamera and Aston Martin's Rapide.
Sources said that the third model in the Lamborghini lineup will be a front-engine sedan built on a four-wheel drive architecture. Power could come from a smaller Audi-supplied direct-injection, twin-turbocharged engine than Lamborghini's already smallest 5.0L V10.
It's being named "Urus," a Latin word with Germanic origins used to describe a very large type of cattle prevalent in Europe until their extinction in 1627.  That's pretty interesting considering Lamborghini's German-owned now.

No word on when we'll see the big cow hit the production line, but they'll be producing 3,000 annually, which is less than the 20,000 Panameras we'll be seeing.  Aston Martin's hoping to produce 3,000 Rapides annually as well.
Source:  eGMCarTech