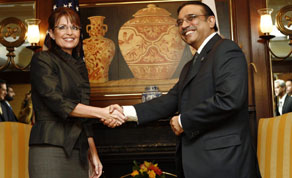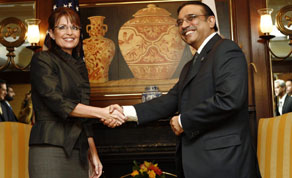 Seldom does a political figure come along that blurts out whatever is rolling through his peanut brain.  We're saluting Pakistani President Asif Ali Zardari for the suave statements he made to Governor Palin at the UN meetings in New York.
On Wednesday, President Zardari met with the Republican Vice-President nominee, steps the McCain is taking to give her more "foreign policy experience." Before the President of Pakistan walked in, she talked about how "honoured" she was to be meeting him.
Once Zardari came in, they greeted each other and gotten on with the festivities.  The President said, "Now I know why the whole of America is crazy about you."  Palin was pretty much dumbfounded and replied with, "You are so nice, thank you."
But wait, it gets better. An official aide to Zardari did not help matters much when he requested the two leaders to keep shaking hands for the benefit of the cameras. "If he is insisting," he said pointing to the aide, "I might hug".
He must've gotten some high fives from his entourage, but we would personally like to give him a digital high five.  President Asif Ali Zardari, we salute you for keeping it real.