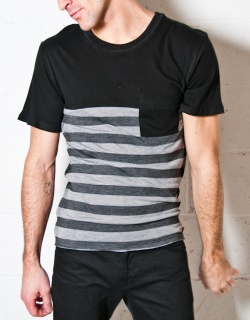 The Crew Striped Tee w/ pockets is a hard to miss kind of tee. Spindle decided to sew a striped fabric to a basic fabric and added a pocket to help ease the drastic change to the eye. This Crew Basic Tee is manufactured and pre shrunk and softened in Los Angeles. The Crew Basic T shirt comes with subtle raw seams on side, waist, and cuff. It also has Spindle's signature two buttons on the bottom left corner of the waistband.
The Tee comes in two varietys, a grey/white blend and a black/white blend. 
More info and images after the jump.
Buy It: $74 at Oak