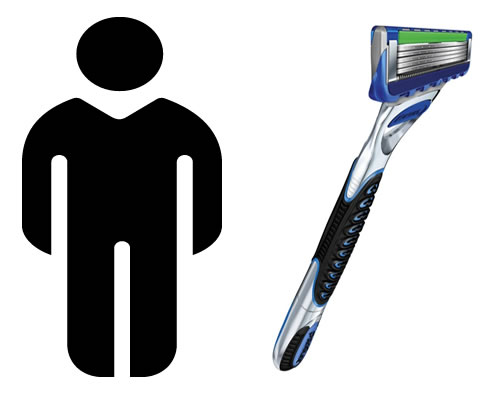 When you thinking shaving, you think Gillette, not those other brands that do a sub-par job at giving us a close shave while protecting our skin. Something that's always been a hurdle for product makers in the past has been the "tug and pull" dilemma. The ProGlide, part of Gillette's ProSeries, packs significant enhancements, that not only address the skin, but the hair as well. So what separates this new razor from the Gillette Fusion or other ones from years past?
First, and perhaps most importantly, the ProGlide has been fitted with low cutting force blades that feature finer edges and have been given an advanced low-resistance coating, which allow the razor to cut effortlessly through hair with less tug and pull compared to other leading razors vs. Fusion. Other enhancements include a larger Lubrastrip for an even smoother layer of protection even when on repeat strokes, as well as the addition of a Microcomb, which helps to guide hair directly to the blade.
The Fusion ProGlide goes on sale in a manual and Power option next month, but Gillette's actually been kind enough to give some of you guys out there the opportunity to grab one for free. A total of 100 razors are up for grabs, which you can grab from the widget below. It's pretty simple, hit the widget, follow the instructions and get yours for free. No gimmicks, folks. We don't believe in those.