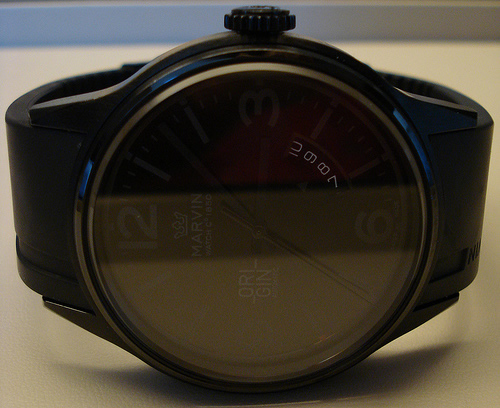 For a company that was established back in 1850, Marvin Watch Co. is certainly experiencing a rebirth at the present moment which combines the Swiss watchmaker's longstanding heritage with some new school tactics. Jerome Pineau, Marvin's International Community Manager, has utilized social media and some outstanding customer service to deliver the brand's timeless products. We personally had the opportunity to check out the M108, an automatic movement beauty that's self winding and offers a power reserve of 38 hours.
While running through Marvin's extensive lineup of timepieces, the M108 in a charcoal finish was the one to immediately standout. It draws much inspiration from earlier classic styles (hence the ORIGIN Series label) and also happens to be the only automatic movement piece with a rubber bracelet. The all-black design really is unique and the overall aesthete delivers a balance between elegance and sportiness. What's more interesting is the attention to detail the Marvin team puts into delivering this specific watch series. All M108s are fitted with butterfly clasps and the rubber bracelets actually have to be cut to fit before they're sent off to their new owner which means you better keep your wrist size handy. All M108s have open window case back, which is not something new, but it's still wonderful seeing the Swiss Sellita SW200 movement work its magic on demand.
All-in-all, the watch is a welcomed addition to any man's wardrobe, watch enthusiast or not. It fits well and the rubber is quite resilient, especially when faced with drastic changes in weather and atmospheres. The PVD finish and small detailings like the Marvin emblem on the crown really make this timepiece special. We've received tons of compliments when wearing and with the history that Marvin has in the industry, this watch tends to stir up some interesting conversations.
Por Homme x Marvin M108 from Atif Kazmi on Vimeo.