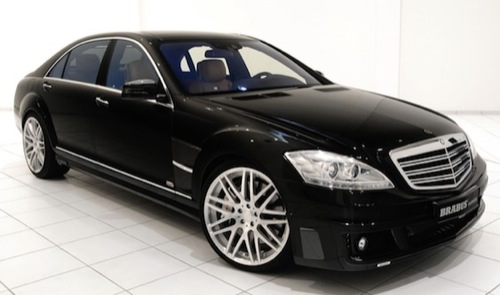 At last year's Frankfurth Motor Show, German car tuner Brabus unveiled their SV12 R, a wondrous beauty which took the stock Mercedes-Benz S 600 and gave it 750 horsepower, a whopping 240 pony add-on. This year, never to be outdone, Brabus has taken the S 600 and kitted with the best Apple products money can buy, essentially turning the top-of-the-line model in the elite mobile office.
Included in the package are two Apple iPads, a 64GB iPod Touch and a beautiful 15.2-inch Mac display to ensure the driver can't see anything through the rear-view. Not only can you use the iPads for their natural uses like watching a movie or browsing the web but they will give you all the functions of the S-Class COMMAND system. The setup is powered by the Mac Mini, Apple's small and most affordable computer.
So all this coupled with the ability to go from 0-62 mph in 4 seconds seems unreal but folks it's as real as it gets.
More images after the jump. (via egmCarTech)