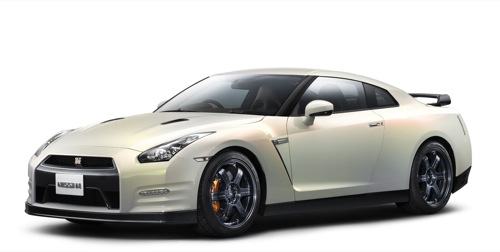 We caught shots of the 2012 Nissan GT-R when the Japanese automaker unveiled the beauty yesterday. America can look for it to go on sale in February of 2011. Of the few trimlines available for the GT-R, the GT-R Egoist is the newest and unfortunately for anyone here in the States, Nissan's already stated we won't be seeing it in the US anytime soon, if ever. Nonetheless, the Egoist is worth highlighting as it's the "first and only Nissan GT-R in the world exclusively created by Takumi, or 'master with greatest skills.'"
Consumers are given a GT-R that bridges the gap between performance and luxury, at a higher price point of course. "Each customer can choose a combination of interior colors among 20 choices. In addition, the Bose sound system is exclusively tuned according to the driving position of each driver to meet every customer's needs. This is the ultimate expression of the Nissan GT-R."
The interior gets a luxe makeover, with parts created by Seton Company, Inc. Muelheim an der Ruhr in Germany while leather master craftsmen sew and stitch carefully selected leather by hand. The seats feature an exclusive quilted design with single and double stitching combined in a reticular pattern. The GT-R emblem on the steering wheel  is created by Mr. Sakae Kubota, an accredited traditional craftsman for Japanese lacquer. Known as the Wajima Maki-e, the emblem's color changes as time goes by.
Don't think the exterior was to be left out of the action as it too has gotten some much-welcomed enhancements. The Nissan GT-R Egoist will boast a carbon fiber rear spoiler and a Titanium exhaust system, both taken from the Nissan GT-R SpecV. The same lightweight and highly rigid forged aluminum-alloy wheel from the SpecV is utilized in the Egoist, but with a new five-layer Blue Sword Chrome Color Coating.
Prices for the Nissan GT-R Egoist start at 15,000,300 yen ($184,698 USD). In comparison, the base Nissan GT-R in Japan starts at 8,694,000 ($107,049 USD).