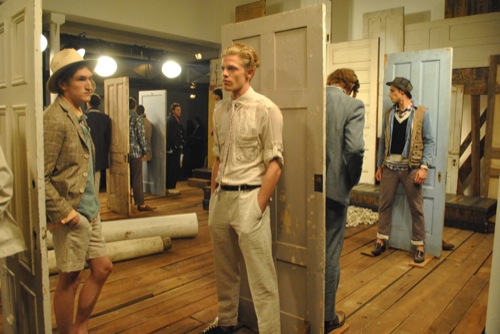 New York Fashion Week is upon us, with plenty of great presentations we're looking forward to bringing you. We're glad we get the opportunity to kick this off with our favorite Southerner. When you walked onto Billy Reid's presentation set at MILK last night, it felt as if you just landed in the designer's hometown state of Alabama. The music was lively as were the dozens of pieces on display from Billy's spring collection. The set was brought over piece by piece from a fine architectural shop in Alabama and the design was influenced by the photographic work of Clarence John Laughlin, widely considered to be one of the first American surrealist photographers.
Billy pointed out that much of his influence for the collection came from some real-life events and experiences taking place in Louisiana and neighboring areas. These ranged from the "euphoric shock" of the New Orleans Saints winning the Super Bowl to the, "Blood chilling fear of the oil spill in our beloved Gulf and marshes." Each look from the collection is based on an incredibly unique and eccentric person from Billy's memory. 
Take "Sully Fitzpatrick" for example. He's the union man done well, with his washed navy coated cotton marigny coat and destructed stone cotton twill chinos. "Mr. Johnson", another one of Billy's creations, really stood out as well with his khaki trench, natural/navy flanneled linen herringbone suit and peach silk foulard bowtie.
Not only did the looks feature some great items from the spring line, but they also shed light on some upcoming collaborations Billy Reid has in the works with Stetson and K-Swiss.