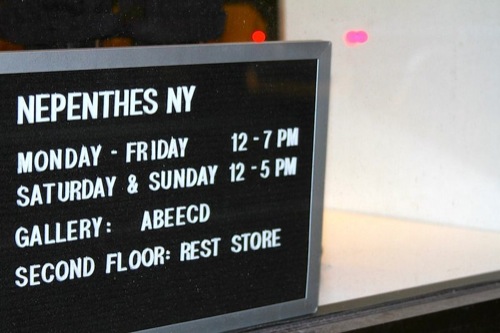 Pop-Up | Rest Store Inside Nepenthes NY
Last night, I ran into Engineered Garments assistant designer Abdul Abasi on the streets on NYC and he gave me some updates on happenings at Nepenthes NY, a new low-key shop that opened up not too long ago. The store is a gem retailer out of Japan and the go-to retail outlet for labels like Needles, Engineered Garments, and South 2 West 8. Abdul turned me to Jake Davis's blog to get an exclusive look at the Rest Store shop-in-shop, now located on the second floor of Nepenthes.
For the month of October Angelo Urrutia has curated his favorite things from Made With Rest. Previously only available at his exclusive appointment only boutique Rest Store on Mulberry Street. If you haven't checked out Nepenthes yet, make sure to do so. The MWR offerings will just be an added bonus.