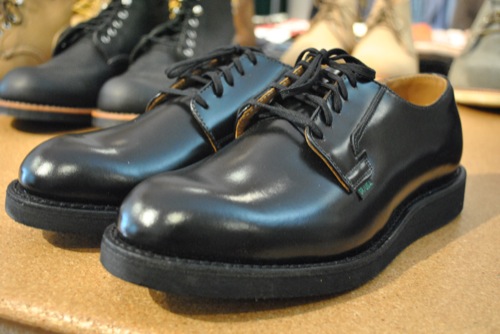 We recently had the opportunity to get a closer look at Red Wing Shoes' current and future offerings in more depth and we were really impressed with how the historic workwear brand is embracing its heritage and delivering some iconic pieces with much influence from its past. Atop the list is the "Postman" style, 101, a sturdy black oxford shoe, which features a moldable insole to make the day-to-day duties of workers more comfortable.
It was first introduced back in 1954 the laces, eyelets, outsole and leather inseams have not changed since its debut over 56 years ago. Talk about timeless. The shoe is also constructed with "Chaparral" leather, which gives the shoe a smooth finish/dress shoe appearance. Originally, this quality was used to allow service men to remain polished so they met uniform requirements, and be tough enough for everyday wear. Mission accomplished. The shell sits atop a black, cushion crepe wedge sole. If you look closely, you'll notice an SR/USA written in green which informs you this shoe is fitted with a slip-resistant sole.
All-in-all, this is may be one of my favorites from Red Wing Shoes. It's comfortable, and the time and dedication put into making each pair shows.