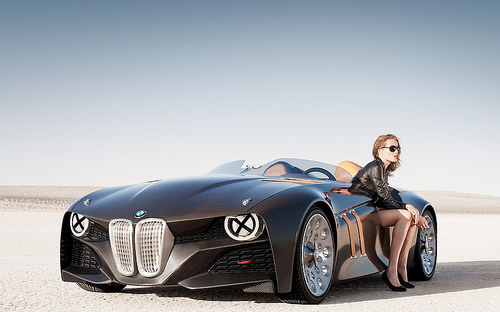 Inspired by the original 328 that hit the streets 75 years ago, the BMW 328 Hommage is a modern take on timeless design. At this week's Concorso d'Eleganza Villa d'Este, the two-seater's functional aesthetics are the focus of attention but let's not forget the BMW 328 racing car. To this day, the award-winning vehicle BMW 328 Touring Coupé still holds the record for the highest average speed on the Mille Miglia circuit and, in 2010, was again able to win the historic revival of the race.
The 328 Hommage delivers a car that translates the principles and the character of the vehicle of that time into present times and offers a possible interpretation of how the designers of that time, Fritz Fiedler and Rudolf Schleicher, might have built the BMW 328 in the present day using current technology.
The car weighs in at 1,720 lbs. with the use of carbon fiber reinforced plastic while power comes from a 3.0 liter 6-cylinder engine.