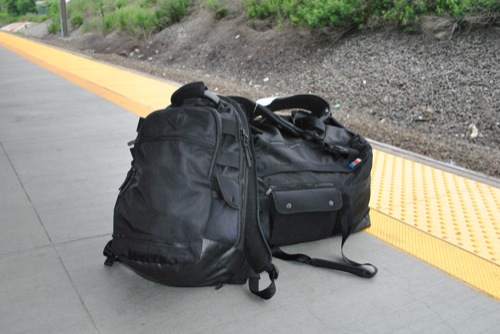 This past weekend, I made my first trip out to Chicago and had the opportunity to take a few pieces from Lexdray's Classified Collection along for the ride. Two of the brand's premier products — the Tahoe Duffel and Boulder Backpack — were my companions for the trip and I honestly don't think I'd want it any other way. One of the first things that stood out to us when we got turned to Lexdray is the brand's ability to make travel bags that are functional to the tenth degree and aesthetically pleasing as well.
Make no doubt about it, the Tahoe and Boulder bags are fitted with a ton of details, some probably that we've yet to discover. If you're traveling solo and using public transport along the way as I did, the Tahoe duffel is perfect. It's got heavy duty handles that can withstand just about any amount of weight but the real highlights of the this bag are the detachable shoulder straps as well as its spacious main compartment. I was able to fit 7 dress shirts, a pair of double monks, APC denims, three pairs of khakis, a lightweight jacket, five neckties, a ton of socks and under garments and a two-piece suit half folded inside a garment bag.
On the way back, I added a sportcoat and a pair of swim shorts to the mix. That's a whole lot of goodness but I was surprised to see that it all fit inside Lexdray's Tahoe duffel with ease as the custom zipper pulls closed with very little resistance. I utilized the shoulder straps a few times throughout the trip as it allowed my hands to get freed up when I need to carry something else or pull out my camera for on-the-go shooting.
When I wasn't using my SLR, it was comfortable stowed away in the Boulder backpack along with a few other essentials I like to keep on me at all times like my MacBook Pro, sunglasses, chargers, and studio-style headphones. There's a discreet zip pocket up top by the handle that fit my 200m lens perfectly and like most of the pockets on the Boulder (and Tahoe as well), it was lined with fleece. I brought along a few smaller items as well and most of them were tossed in their own mini pockets, as there are a bunch of those throughout the bag. Lexdray founder Alex Drayer really spared no detail when designing these pieces.
Between the two bags, I was really set, friends. I was able to access certain items with zero hurdles and knew I could rely on the military grade fabric and hardware to protect my most valuable possessions. When you're loading up a duffel with as many things as I did, you wonder if you're be able to lug it around town and I was quite mobile even with these bags with me because the Tahoe could be converted to a backpack so easily. The shoulder straps on both pieces are extremely comfortable with their extra padding and are fully adjustable as well.
We've got some live shots of the two pieces below and if you haven't already, be sure to see Lexdray's entire Classified Collection through their online store.