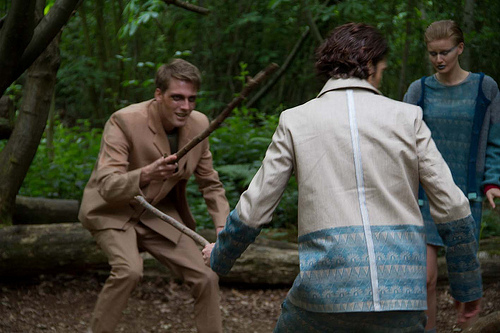 Style Savage gives us a look at Yasmin Bawa 2011 Graduate Collection from the Middlesex BA show which was held last week. Yasmine describes her graduate collection as a mixture of tailored and casual looks that explore the idea of how suits can be made interesting and different. It is also a continuation of my interest in colour, print and texture. Here's a snippet of thoughts from SS:
Bawa's graduate collection plays with tailoring and looks to Futurism, ISOTYPE, pictograms and camera-less photography to breathe fresh life in to staple pieces. During her research, Bawa focused on Giacomo Balla's 'Futurist Manifesto of Men's Clothing' and had the line "we must destroy all passeist clothes, and everything about them which is tight-fitting, colourless, funeral and boring" ringing through her ears as she designed.
Liam Simpson captured Yasmin Bawa's Fashion Film 2011. Check it out below.