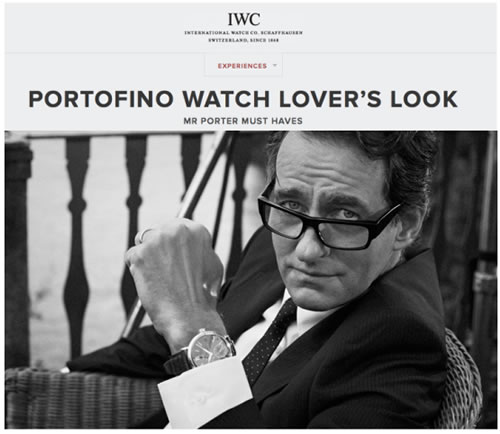 Hodinkee tells us IWC Schaffhausen has teamed up international online menswear retailer Mr. Porter with the introduction of the retail site's "Portofino Watch Lover's Look" segment. With designers including Dunhill, Ralph Lauren, Jimmy Choo and others, Mr. Porter will offer up curated collections and accompanying editorials. IWC & Mr. Porter align in many ways and this collaboration will surely add some value to IWC owners and Mr. Porter shoppers alike.
Blake from Hodinkee summarizes it best:
So, now when you purchase one of IWC's new Portofino watches, you can sign onto IWC.com and see how Mr. Porter can complete the ensemble with panama hats, driving mocs, and Dunhill travel bags. A really thoughtful partnership from the boys in Schauffhausen, and one that may add a whole new lifestyle dimension to the IWC brand.
Browse the collection and stories from IWC's Portofino look from Mr. Porter here.