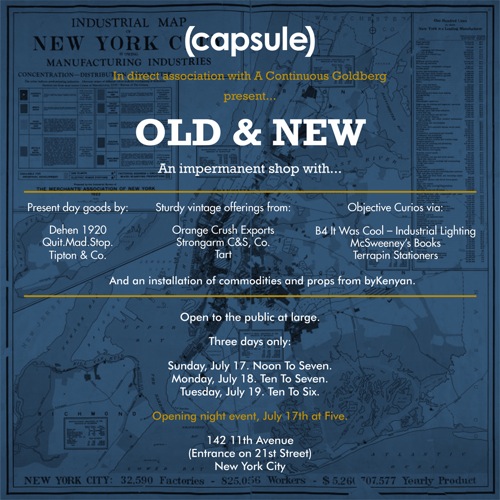 Michael Williams from A Continuous Lean and Mr. Randy Goldberg of Urban Daddy fame have teamed up once again, this time with a impermanent shop in collaboration with next week's (capsule) tradeshow in New York. The shop will house vintage dealers, some up-and-coming labels and some of New York's local community. Folks on hand include Terrapin Stationers, Dehen 1920, Quit.Mad.Stop., Tipton & Co., Orange Crush Exports, Strongarm C&S Co., Tart, B4 It Was Cool, and McSweeney's Books. There will also be an installation of commodities and props from byKenyan.
Open to the public for three days only. Sunday, July 17 — Noon to Seven; Monday, July 18 — Ten to Seven; Tuesday, July 19 — Ten to Six. There will also be an opening night event at five on Sunday.
142 11th Avenue (Entrance on 21st Street), New York City.