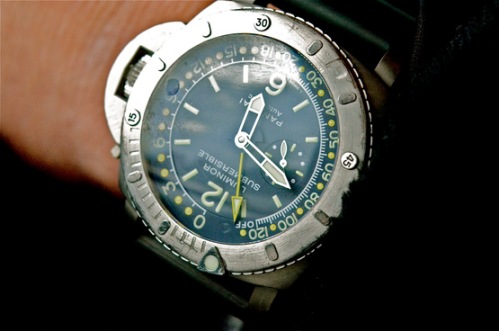 The marks on a man's watch tell a story but for Mike Horn, the scars on his Panerai only capture a glimpse of what he has experienced and accomplished in his life. Horn's a World Explorer — he's swam the entire length of the Amazon river with a broken knee, been to the North Pole in the winter and has been to parts of the World most can't even fathom. He's done it all while wearing a specially developed, triple cased Panerai, the PAM 92 Arktos.
Ben Clymer of Hodinkee and Sean Sullivan of The Impossible Cool were recently invited by the folks at Panerai to take a trip aboard the Pangaea which is manned by Horn and his two teammates. Nowadays, the world explorer is on a four year world tour on the 109 foot all-aluminum manual sail boat. The mission? To show "young explorers how they can help save the planet that Horn has seen from so many different angles."
Read the full article over at Hodinkee and check out the video on the trip below.