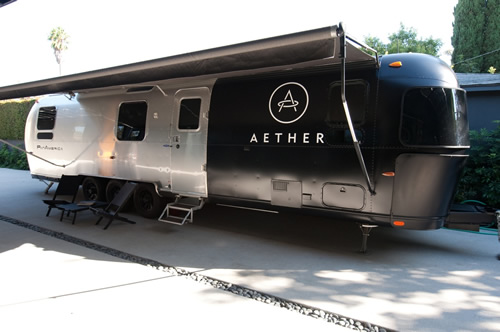 Opening tomorrow in Los Angeles is Aether's new concept shop, the AETHERstream. It's a 34' PanAmerica Airstream that will be selling some of the key pieces from the brand's Fall 2011 collection. Paris-based designer Thierry Gaugain helped to create this ultimate shop on wheels. Aether found this RV and completely gutted the interior to redesign it from the floor up. The AETHERstream flooring is 11" reclaimed oak floor from Carlisle Wide Plank Floor. The sofa and table are custom made by Environment Furniture, who uses sustainable harvested wood and the reuse of otherwise discarded materials. Most props and other furniture were purchased at the Paris flea market.
The shop will be located at 8207 W. 3rd Street and will be open from 11am to 7pm seven days a week. The
Aether is unveiling their new concept shop, the AETHERstream on Friday, October 7th, at 8207 W. 3rd Street. Not in LA? Fear not as the AETHERstream will reside in Los Angeles until November 1st, when it will relocate to New York for November and December.