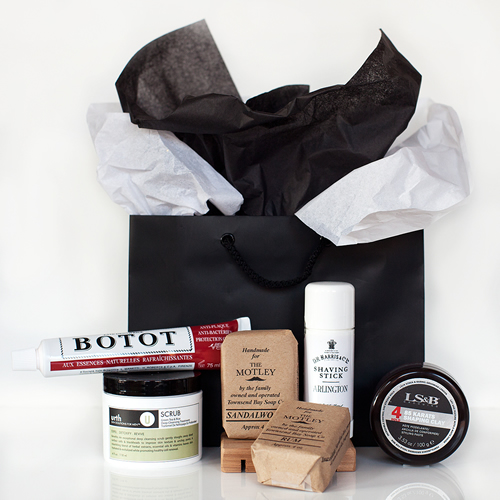 We recently had the opportunity to team up with The Motley on a grooming kit filled with some of our favorite products from the site. The set features five must-have products — toothpaste, face scrub, shaving stick, soap bars and a grooming clay for your hair. Why did we decide to team up with The Motley on this and not someone else, you ask? it's simple — we want to work with like-minded people and still be able to express ourselves freely and let our "individuality" shine through. We chose the pieces and they gave us the platform. Clap for 'em. Now as for this kit, I really think it will be a great buy for the holidays whether it's for yourself or for someone else in your life. It's about starting your day off right and these grooming products help to do just that.
Botot Toothpaste is like brushing with Big Red gum- ginger and cinnamon leave breath fresh. You have options in the shower with the Townsend Bay duo, which includes both rum and sandalwood bars of soap. Urth Face Scrub gets rid of dead skin and preps your face for shaving with the easy to use D.R. Harris Almond Shaving Stick. Then just style hair with Lock Stock & Barrel 85 Karat Grooming Clay to give hair volume, texture and a matte finish, and out the door you go.
The grooming kit is available now at The Motley.