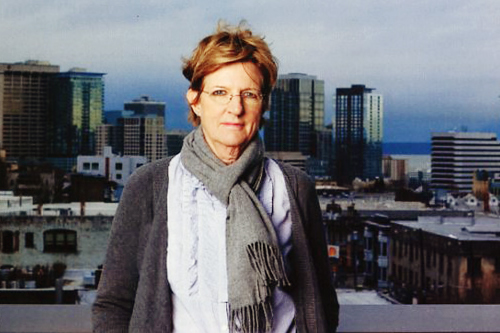 Road to (capsule) is a Por Homme exclusive, made possible by the good folks behind the (capsule) tradeshow, and of course, the person(s) being interviewed. We ask each designer a few questions that help to give us — as fans, readers, observers, whatever — a better understanding of what makes these gifted individuals tick. The questions are fairly uniform, but as you'll see, the answers are far from that. The (capsule) show invades New York January 16th and 17th, giving viewers first looks at Fall/Winter 2012 collections from the industry's most reputable men's labels.
Anne Michelson founded Crescent Down Works in the mid-seventies and nearly 40 years later, the brand is still as relevant as ever, this time to a completely new audience. To reach them in a more intimate environment, Anne and her team is prepping for their first-ever showing at the (capsule) New York. We had the opportunity to interview Anne to see how the brand has evolved over the years and what 2012 will bring for the Seattle-based label.
–
For over 35 years, Crescent Down Works has been known as a leader in some of the best functioning and looking outerwear. What are some of the reasons behind this reputation?
I started this company to supply mountain climbers and hikers in the Northwest, and our highest priorities have always been quality and reputation rather than the bottom line. We do everything in-house here in Seattle and highly value our employees – our head sewer Thuan has been with us for over 25 years – which allows us to keep eyes on production from start to finish, and to become masterful at what we do. We're not willing to sacrifice quality or devalue human labor by outsourcing production overseas just to gain profit. We try and use the best fabrics and down to keep our customers warm and looking great, and we're very happy you guys appreciate the goods we work hard to produce.
In 2011, Crescent Down Works partnered with some of the premiere names in menswear – Mark McNairy, Dave's Quality Meats, SHIPS, among others; How much of a role will collaborations play in 2012 and beyond and why are they such valuable components of the overall CDW offerings?
Our whole business is based on custom, made-to-order manufacturing. We offer basically the same range of styles every year, and customers can choose from our stock fabrics or provide their own. In this way, you could call everything we produce a collaboration – which makes it really fun for us. Every year we choose our stock fabrics, almost all of which are made in the US or in Japan, and buy remnants from Pendleton which is great because they are limited and always changing. It's really exciting to see what our customers will ask for, or what fabrics they'll send us – from SHIPS' beautiful tweed to leather, linen, denim, duck, or who knows? It's a great challenge for us to meet the requests of our clients.
Where and how does Crescent Down Works strike the balance between form and function, between performance and appearance?
We have stuck with our Pacific Northwest Styles and good down proof fabrics, staying away from trendy untried materials and styles. We use the same patterns I developed in the '70s and '80s because they're classics and they work. If something doesn't perform well, it doesn't look good to us.
You've been located in Seattle since the brand's inception. How has the region influenced the clothing, and is there something in the brand's DNA that reflects its hometown?
Yes, this is a great question! It's sort of a Northwest perseverance, and a lack of concern for fashion trends. I grew up here and always hiked in the Cascades and Olympics and loved being outdoors. Seattle is a city very close to and intertwined with nature, and humans living here have always had to hew an existence from the weather, the mountains and the water. Maybe that forces a kind of practicality and straightforwardness that shows in our products. Additionally I started this company myself from scratch and even lived above the sewing and cutting floors for years. Something about Seattle seems to speak to an independent and self-starting spirit.
This is the first time Crescent Down Works is exhibiting at a tradeshow. What drew you guys to debut at (capsule), and what are you hoping to gain from this experience?
In fact, we have been to many a grueling trade show – Outdoor Retailer. So contrived! We do not really need trade shows to get enough orders, but Capsule looked like the one that I've dreamed about. We're looking forward to meeting old friends and new customers, and stimulating their imaginations by displaying the wide range of goods we can produce. We hope to reach customers who might be shy or who can't do a sample order without seeing the goods in person.
What's a must-have item for the Crescent Down Works fan in the F/W '12 collection?
First of all, we love all our fans – thanks you guys! Always be on the lookout worldwide for limited edition fabrics and styles. That aside, we don't have any completely new items this year, but the Down Shirt is becoming especially popular and should be easier to find in 2012. It's a great medium weight piece between a vest and a jacket. The most important thing is to find the piece that works for you – we hope our classic styles will last you well past next season.