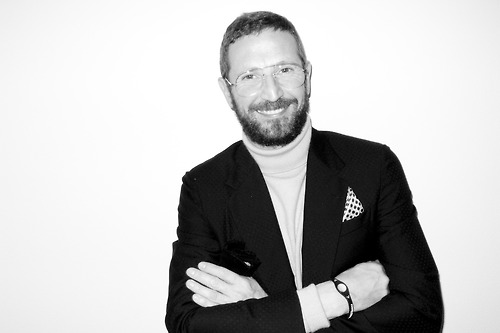 For the past decade, Stefano Pilati has been the creative director for Yves Saint Laurent, one of the world's most historically-rich brands in the history of fashion. He's worked alongside Tom Ford before his departure from YSL and with Miuccia Prada during his time at Prada and Miu Miu. The Milan-born designer has influenced a generation with his work. In this interview with Vice Magazine, he talks the current state of fashion and its future. Some excerpts can be found below.
Is the idea of fashion as part of contemporary culture – alongside music and art – still valid? Or has the market transformed the reality and perception of what is fashionable into some sort of abstraction?
Fashion is not fashion anymore. I am sure of this, but nobody realises this because the world is full of romantics like me – people who continue to believe in it. Now "fashionable" can mean anything. Everything is fashion. Anything can become fashion. A while ago, things were more elitist, and this allowed it to be more aspirational and directional, and this would inspire others. It might have even – to use a horrible term – "taught" others. Nowadays, what can you teach? I might make a collection in flannel, and then the next guy makes a collection using technical see-through nets. If somebody doesn't know much about fashion, what can he draw from this? What can he learn? It makes no sense! He can't use fashion as a road map, he's lost. Nowadays, it's all business.
The other problem is that fashion, as a system, is very insular and introverted. We constantly recycle the same concepts and express them through the same modes of representation. The moment you start making videos or move off the catwalk, most journalists will have no fucking clue what you're doing because they don't have the time, willingness, or culture to really understand something new. You'll be misunderstood, and you'll have no choice but to return to doing the things that follow the language everyone understands.
Yves Saint Laurent brought street fashion to the catwalk with his Beat collections in the 1960s, and then he created prêt-à-porter. Over the past 20 or so years, I can't think of many designers who crystallised youth culture in their work like he did. Maybe Raf Simons or Junya Watanabe. Is high fashion's relationship with streetwear officially over?
The real question is: What can you take out of streetwear? Girls are all wearing miniskirts and leggings and leather jackets. We've already seen all of this. Streetwear never taught me anything. Consider this: Yves Saint Laurent was one of the first designers to revisit vintage. If you read his biography, you'll see it. He used to go to London to the first secondhand markets and find clothes from the 30s. That's how he invented the tuxedo. He bought a man's smoking jacket and put it on one of his muses. That's how most of his innovations began. Today you can do that type of research, but it's hard to create a story like that, because too many have already been told about almost everything. Personally, I view my work like that of an artisan. I am very egocentric in this sense. I work in fashion to express my own self, because it's the only way I know how.
Do you think fashion is misunderstood because the people who create it speak a different creative language from those who consume and analyse it?
When people enter our store they imagine cashmeres, silk cravats, shirts in crepe de chine, crocodile shoes. Obviously, we make them, but it's like hitting myself in the balls. I have 800 cashmere coats and 900 silk cravats. My point is, your work can't just be a selfish journey. You're working for a brand, not your brand. You have to adapt. I like to let myself go with some ideas, but you have to have the rest of the company on board with you and deal with those dickheads who are only businessmen – the ones who ruined fashion, people who move from Danone to YSL like it's the most natural transition in the world.
—
Full interview on Vice.