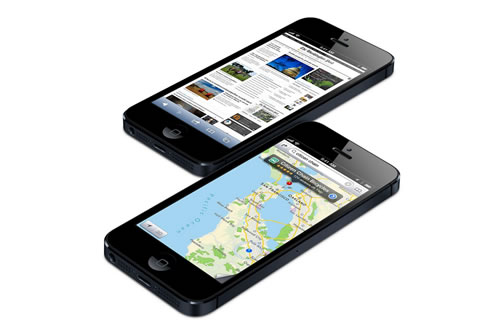 Another year, another iPhone 5, folks. Apple's released the highly awaited hardware and it's everything the rumor mill's been swirling around over the past few months. It's a thinner and lighter design than its predecessor and features a larger 4-inch Retina Display as well. More details on some of the iPhone 5's new features after the click.
A6 Chip
You get better CPU performance, faster graphics, and better battery life. We're talking 8 hours of browsing on a cellular connection, up to 8 hours of talk time, and up to 10 hours of video playback time.
Ultrafast Wireless
The latest iPhone's "Ultrafast Wireless" brings LTE support and includes advanced networks such as HSPA, HSPA+, and DC-HSDPA as well. Browse, download, and stream content at ultrafast speeds. Dual-band 802.11n wireless connectivity accelerates your Wi-Fi experience, too, and at blazing speeds up to 150 Mbps. All this is done while keeping the browsing time at 8 hours, even over LTE.
iSight Camera
The iPhone 5's camera records stunning 1080p HD video with the iSight camera. Improved video stabilization helps prevent shaky footage. Face detection for up to 10 faces means everyone can have a moment in the spotlight. You can even take still photos as you record, so you can capture small moments while shooting a big one. The new panorama feature lets you capture everything from a family reunion group photo to a jaw-dropping shot of the Grand Canyon. With one smooth motion you can shoot up to an impressive 240 degrees. The front-facing camera has been upgraded also to support 720p video recording.
Lightning Connector
Apple's replaced the 30-pin connector with the newer, smaller, and just plain better Lightning connector. It features an all-digital, eight-signal design that's significantly more durable than the 30-pin connector and it's reversible so there's no wrong way to plug in the cable. If you need the 30-pin cord still for certain peripherals, Apple's dropping a Lightning to 30-pin Adapter to support as well.
Newly-designer EarPods
Apple designers and engineers tested over a hundred prototype designs on hundreds of people. All with the goal of creating earbuds that rest comfortably inside — and stay inside — a variety of ear types, while also producing quality sound. The result is a breakthrough for earbud headphones: Apple EarPods.
Beyond this, the iPhone 5 also comes with iOS 6 installed so you'll get introduced to a completely revamped Maps app, deeper integration with Facebook, more use from Siri, Photo Stream, and Passbook. The Apple iPhone 5 will be available for pre-order on September 14th, with the official release to be on September 21st.