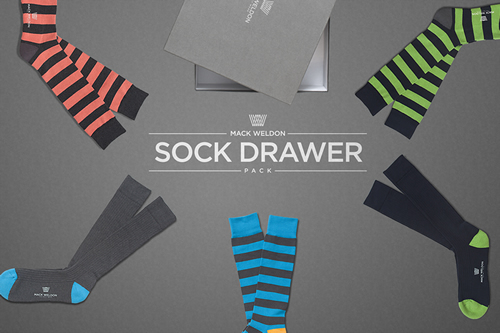 Anyone that knows me also knows I love socks and colorful/eccentric ones at that. Mack Weldon's fairly new on the scene but they're looking to do men's basics right and boy are they off on a great start. Their offerings range from underwear and undershirts to tees and socks, all infused with high-quality fabrics, some forward-thinking tech detailing and an outstanding fit.
That's what it's all about, right? Find the undershirt that's comfortable and doesn't bunch up on you or expose itself when you're wearing a button-down sans tie. Socks need to be bought with the comfort of knowing they won't slouch and will provide the right amount of cushion and support throughout the entire day. Each piece is engineered to promote comfort, mobility, moisture and odor management, and recovery. With a specially formulated 18-hour jersey fabric, underwear and undershirts retain their shape after repeated wear and wash with a minimal amount of shrinkage.
These are essentials so you shouldn't have to break the bank buying them and MW rewards folks with their volume-based pricing model based on value of purchase. Consumers can easily order and replenish their stock, even signing up for auto-replenishment so that the dreaded act of shopping for basics is virtually eliminated. Shop Mack Weldon's gift packs, though our favorite is the "Sock Drawer" pack as it features five pairs of socks in varying solids and stripes.