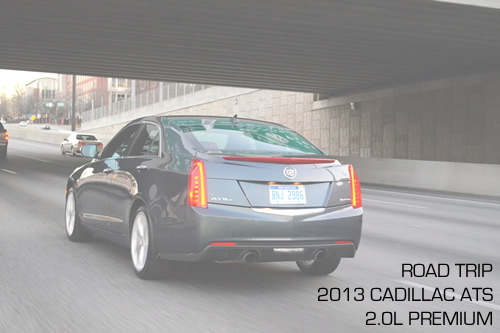 Cadillac. Every time we here at Por Homme think of the GM brand, some of the first things that jump out at us are their cars' undeniable comfort, the love for their V-Series performance vehicles and their prominence in classic American media (think Vinny's '62 Cadillac "Series 62" convertible). We recently had the opportunity to take the 2013 Cadillac ATS for a spin and pondered the about the first — how do we really test the comfort of this car? Well, going on a road trip we thought would do the trick and it most certainly did. Cadillac tossed us the keys the AWD 2.0L Turbo Premium model as we embarked on a twelve-hour drive to Atlanta. Along the way, we stopped a few times to re-up on fuel and food but it all went by much faster than we originally anticipated.
The ATS is Cadillac's compact luxury sedan and matches up quite nicely against its German competition — the BMW 3-series and Mercedes-Benz C-Class. This isn't a shrunken version of the CTS that the American automaker tossed together just to compete directly with the cars mentioned above. In fact, design work began with zero inspiration from the CTS and a few key goals — keep it compact and lightweight, with near 50/50 weight distribution as well as rear- and all-wheel drive. All is accomplished without sacrificing design or comfort.
The interior's design is seamless and luxurious, with red leather seats with embossed detailing and hints of carbon fiber throughout the panels as well. The driver's blessed with heated steering wheel and a heads-up display which showcases the speedometer reading as well as forward collision or lane departure warnings, navigation, compass headings, and a few other options that you can configure to your liking to ensure your eyes are on the road. Cadillac's CUE runs the show and provides enhanced features when you connect your phone via bluetooth. My iPhone was synced and we were able to flip through Spotify tracks right from the steering wheel, making the trip downright effortless when coupled with the car's adaptive cruise control feature.
After twelve-not-so-excruciating hours, we got to ATL and the city instantly turned into one of my favorites. Atlanta's clean, which is a huge plus, but I was captivated by the people and their unwavering level of kindness. Southern Hospitality is real, friends. Throughout the weekend, we hit some key landmarks and explored the city as best as we could. We ventured out to Buckhead a few times as well but were glad to have the ATS for this journey. It had plenty of space for our Atlanta-based friends and additional luggage that we ended collecting after some time at Phipps, Lennox Square and a few other spots. Before we knew it, our weekend had flown by and we were on our way back.
It took about the same time to get back but we were met with Mother Nature on the way. Between some heavy downpours as well as an onslaught of snow, the ATS and its all-wheel-drive capabilities were able to protect us from the elements with ease. One of the coolest features came from CUE and its weather reporting. Say you're ten hours from your destination. CUE will provide five weather predictions up front for every two hours depending on where it expects you to be at those times. Though the CUE as a whole still needs to be a refined a bit from an ease of use stand point (picking the right icon proves to be difficult at times and navigating through all the options is a bit cumbersome), this is one of the things it does right.
So was the Cadillac ATS as comfortable as we expected? Yes. The craftsmanship and thought put into the tech features allowed us to enjoy the ride more and worry less. Things like the Heads-Up Display and weather predictions are features other manufacturers surely have access to but are doing a poor job implementing. Look for Cadillac to continue making it harder and harder for other brands to keep up as they enhance their portfolio of vehicles with cars as feature-rich as the ATS while continuing to deliver comfort, performance and innovative design.