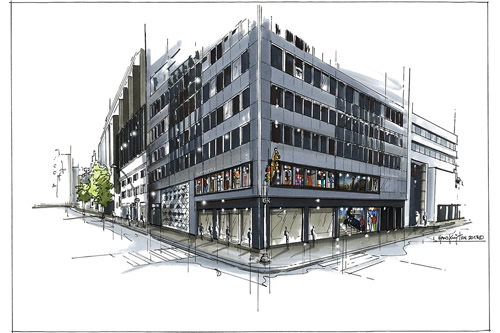 Suitsupply has opened doors to its second New York City location, this time staking claim in Manhattan's Madison Avenue shopping district. The detail of the shop was unveiled at last night's opening party and it's everything we've come to expect from the European brand. Similar to their Broome Street location, the new space at 59th and Madison is perched on the second floor though the view from these glass walls is more inspiring than that of the iconic Soho shop.
In trademark Suitsupply fashion, the new space features a tailoring kiosk front and center, ready to perform alterations on the spot, as well as an expanded made-to-measure program and the full Suitsupply collection, which includes tailoring, knitwear, shoes, and accessories, plus a new, exclusive collaboration with GQ Best New American Designer Baldwin Denim, all unified by Suitsupply interior designer Floor Enneking's bold use of graphics and color, and innovative, inviting product displays.
"The Suitsupply aesthetic is all about classic tailoring viewed through the lens of modern fashion, a compelling mix of uptown tradition and downtown style," says Suitsupply CEO Fokke de Jong. "Following the success of our Soho shop, heading uptown was the next logical step." Plus, he adds, "many of our best customers are in the area. We're saving them the trip."
Suitsupply's made some really positive strides in the US over the past few years and we believe it all starts and stops with New York. This shop just fortifies their place in Menswear and we're excited to see what else they have in store in the months ahead as they venture into other top-tier markets.
Suitsupply Madison Avenue – 635 Madison Avenue 10022 New York, 11-8pm Monday thru Friday, 11-7pm Saturdays, 12-7pm Sundays