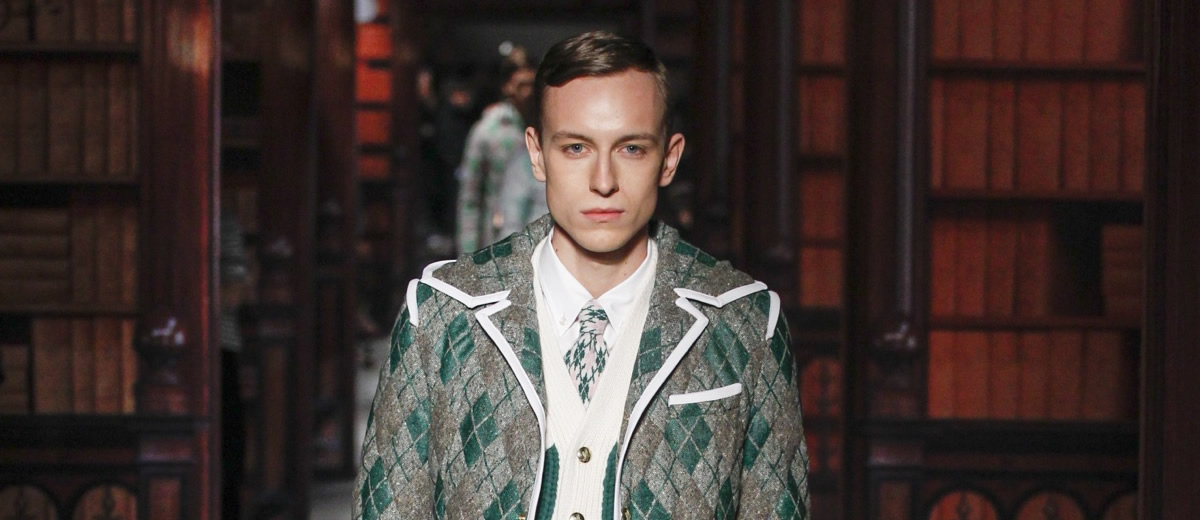 For F/W 2014, Moncler Gamme Bleu pulls inspiration from golfing, with Thom Browne crafting out a setting that's got the Club House feel, with English-style bookshelves in wood panelling. Argyle's used heavily here, with jackets in a contemporary silhouette and softer shoulders, and knickerbockers with quilting details all adorned in the iconic pattern.
The biggest news out of Milan for Moncler Gamme Bleu was that the Fall/Winter 2014 lineup also brought forth a women's collection designed by the label's head designer, Thom Browne. "Since it was first established in 2009, Moncler Gamme Bleu has combined the Moncler universe with the sartorial sensibility of Thom Browne", explains Remo Ruffini. "Starting from the F / W 2014 –15, Thom has pushed back the boundaries of his creativity to create a women's collection as well". The women's collection revolves around the sartorially refined argyle fabrics with constructed jackets worn over bermuda shorts, as well as softer garments such as the skirt pulled in at the hem to create volume.
Classic pieces feature with a sartorial cut: outfits, sporting coats, Chesterfield coats, trench coats, capes, cardigans, polo shirts, trousers and shorts. An entire collection which includes outerwear, trousers, shorts, jackets, shirts and accessories, all made entirely in argyle. This includes neckties played out in shades of grey, red, white and blue, pink, green and black. Wool fabrics, Oxford fabric, cotton jersey and cachemire, not to mention technical fabrics such as lightweight Cordura and Ripstop nylon, all of which are finished or see a diamond print.