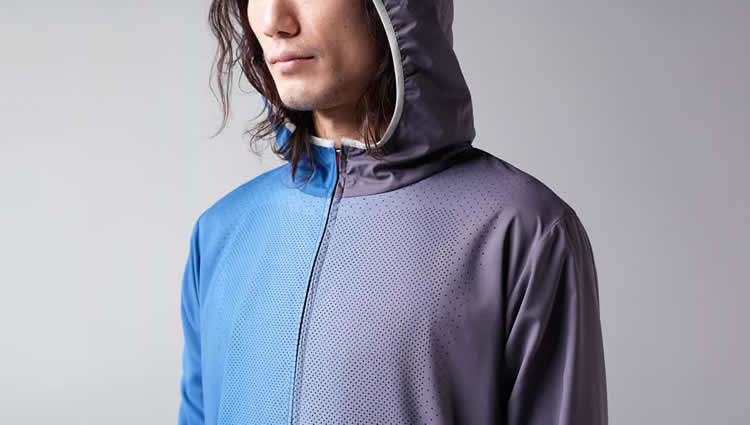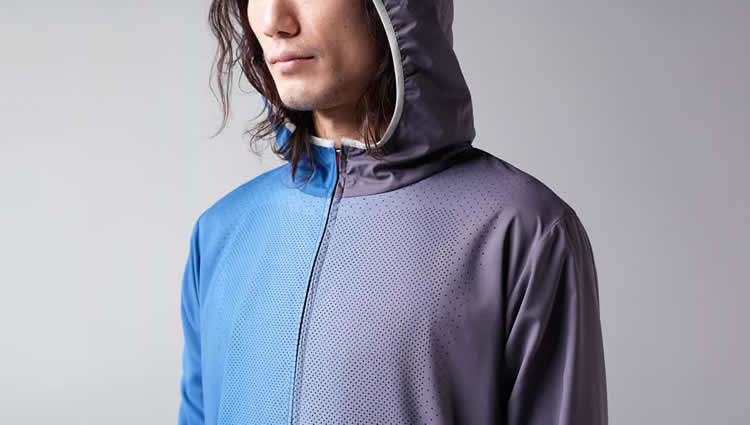 The Nike x Undercover Gyakusou Spring 2014 Collection features contrasting colors and materials, furthering articulating Jun Takahashi's interpretation of running as a battle between two opposite emotions. The struggle between joy and agony, elation and exhaustion, persistence and surrender. Takahashi worked with Nike's Apparel Innovation Design Team and was exposed to the latest advanced technologies informed by body-led research. Nike Sweat Map ventilation leverages thermal body mapping that charts changes in body temperature and combines an engineered jacquard weave with pinpoint laser perforations. The sophisticated weave optically and tactically articulates the upper body's heat map, while the perforations provide aeration at the points where body temperature is the highest and likely to rise with exercise.
The result is a range of product with the resulting pattern, such as the men's Sweat Map Jacket and Dri-FIT Sweat Map 3/4 Top to the Dri-FIT Sweat Map Tank. Sweat Map ventilation on the base layers and jacket are also designed to perfectly align, maximizing performance benefits. Other details include color blocking, gradation and text. You'll also notice the season's hues are paired with urban grays.
There are also some bottoms in the mix such as the Dri-FIT 5-Inch Woven Short and the shorter, lined Dri-FIT Woven Raceday Short and the Dri-FIT 3/4 Tights.
The Nike x Undercover Gyakusou Spring 2014 Collection launches globally on March 1.