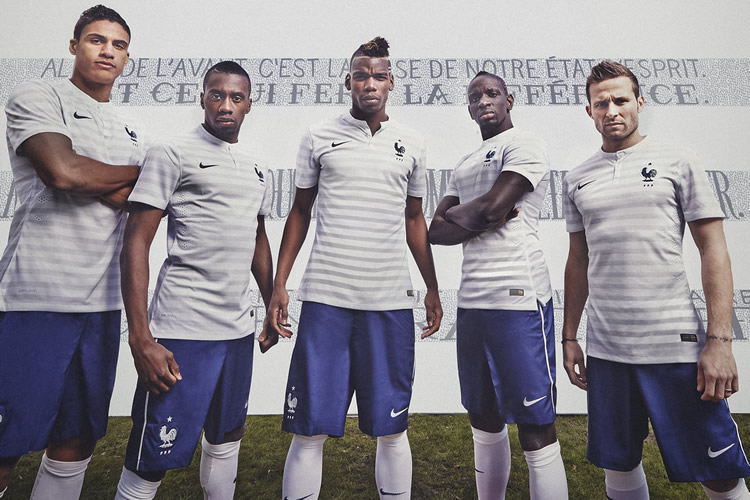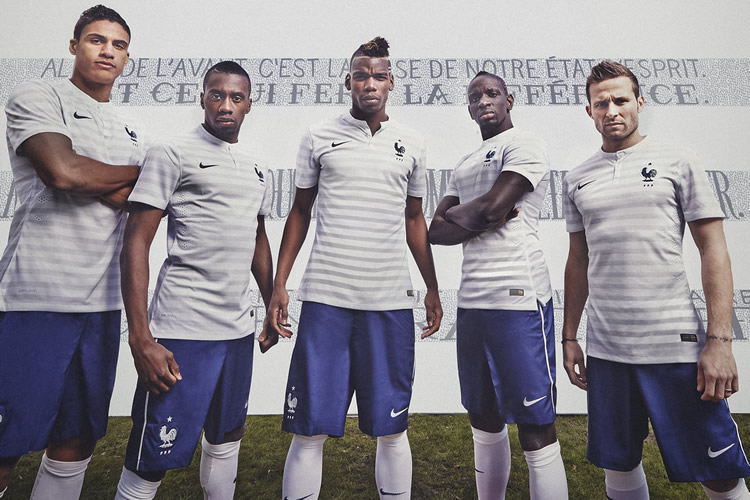 Nike's new French national team away kit for 2014 was unveiled today at the French Federation Football training ground that the team will be sporting in Brasil this year. Raphaël Varane, Blaise Matuidi, Paul Pogba, Yohan Cabaye and Mamadou Sakho helped to show off the digs, giving us a look at a kit that brings back the "Marinière" design in the form of a tonal grey mariner stripe. The new away kit also features a new crest, inspired by the classic cockerel worn by the French team in 1958. The stand collar looks great here while you'll also notice a small pennant featuring the red, white and blue colours of France's tricolor flag inside the back of the neck.
The kit also features a slimmer, more tailored short in midnight navy blue and features the same stylish and unique denim effect found in the home jersey. The fabric's inspired by the southern French town of Nimes, the birthplace of denim and origin of the fabric's name (de Nimes).
In terms of comfort and performance, designers used a combination of Nike Dri-FIT technology, mesh panels and laser-cut ventilation holes to localize cooling where players need it most. Furthermore, the kit is made with a new dual-knit fabrication that incorporates cotton and recycled polyester for the best in moisture-wicking properties, while adding a softer feel and more flattering shape.
The French national team away kit is available on nike.com to pre-order from March 4 and on sale from April 3.