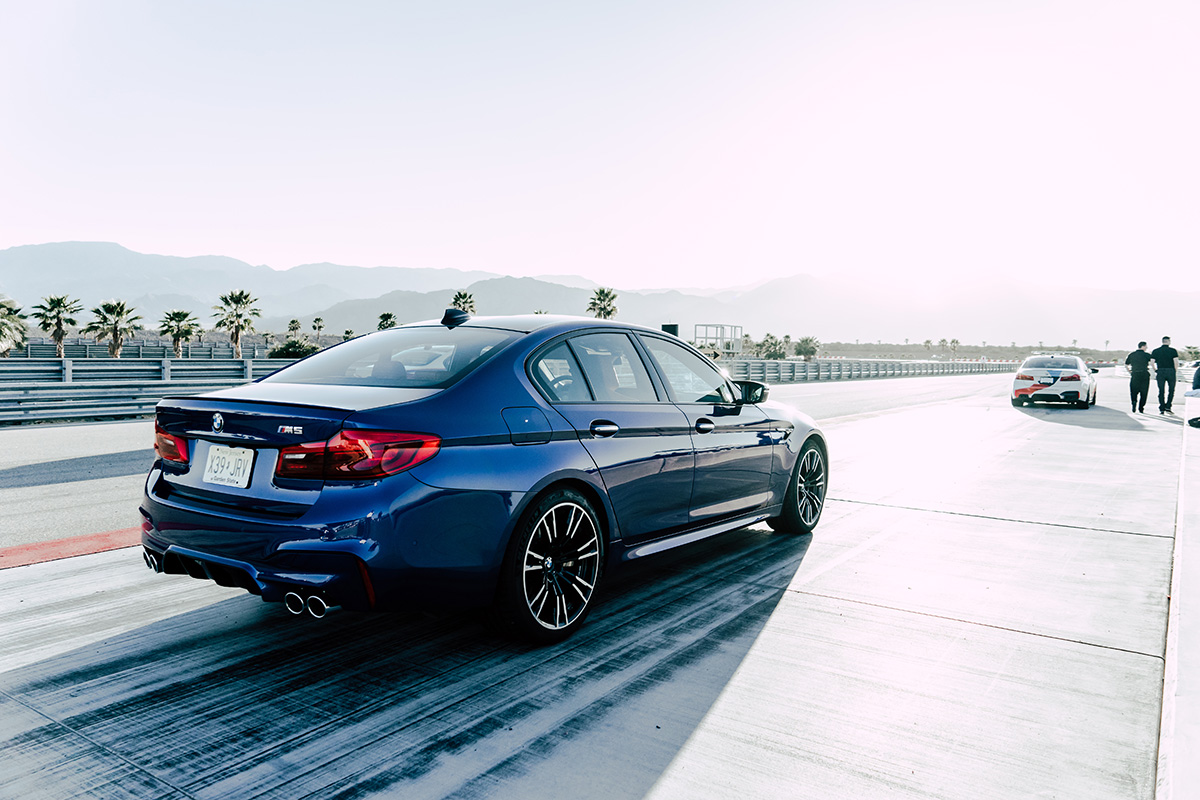 Photos by Atif Kazmi for Por Homme
Not sure if you guys heard but the new BMW M5 was declared the 2018 World Performance Car, a distinction held in recent years by cars like the Audi R8 and Mercedes-AMG GT. But the M5 is a sedan and there is something special about a vehicle that can deliver comfort and luxury for five people while also being able to haul ass on the track (and off). The last generation M5 was a force to be reckoned with also and the sound of 560 horses coming your way made most other cars out there fall to the wayside.
But while the genetics are the same, there's something quite special about the newest member of the M5 family. We made our way to the BMW Performance Center in Thermal, CA to find out what that is. The Performance Center blends driving school learnings with on-track time with the 30-acre property's track area and 1.6-mile road course. Given that it's always driving weather in the Palm Springs area, this is the place to find your driving limits and fearlessly push right past them.
On this day, track time was led by Performance Center instructors as well as seasoned BMW race car driver Bill Auberlen. To see him get the most out of the new BMW M5 was an experience in itself, but to then be leading the packs and helping us get our lines right was priceless. There's just a certain hemisphere only guys like Bill can touch. Doesn't matter how many times you've hit the track. Sit in the passenger seat while he's driving or even spectate from the sideline like we did a few times. And putting him at the helm of a sports sedan that can switch between AWD to RWD at the press of a button reaffirms BMW's dedication to motorsports without ignoring innovation and technology and everything else purists want to limit in the name of performance.
BMW's also made an all-season performance sedan that competes with Audi's Quattro sedans, something us folks in the Northeast have been asking for for quite sometime. But Thermal and Palm Springs aren't where you worry about whether your car's got all-wheel-drive, it's where you let the tires warm up and you hit every bend with confidence. The biggest gripe that we heard from previous-generation owners was that M5's inability to put all that power down to the ground. And for most owners, the dual-clutch transmission was just too rigid for daily driving, something we would agree with but looked past because of how much feedback and enjoyment the dual-clutch M transmission provides when the road opens up. But alas, we see BMW's brought in their eight-speed ZF transmission to smooth things out and manage all 600 horsepower and 553 lb/ft of torque with ease. All this takes the new BMW M5 from 0 to 60 in just 2.8 seconds. A luxury performance sedan that's also a two-second car? Sign us up.
There really isn't a sedan that's more versatile or more refined. BMW's interior edits here further this point. With much of the tech we saw in this generation's 5 Series, we get an iDrive 6 system that delivers infotainment capabilities through a 10.2-inch center touchscreen, available gesture controls, 16-speaker Bowers & Wilkins surround sound audio, navigation, 4G LTE Wi-Fi hotspot and a wireless charging pad. Apple CarPlay can be had as option as well though don't expect Android Auto support. Subtle and not-so subtle changes like the redesign of the steering wheel and its now red M buttons helps here as well.
Check out visuals from our time with the 2018 BMW M5 and look for it at your local BMW dealer (and your local roads now).