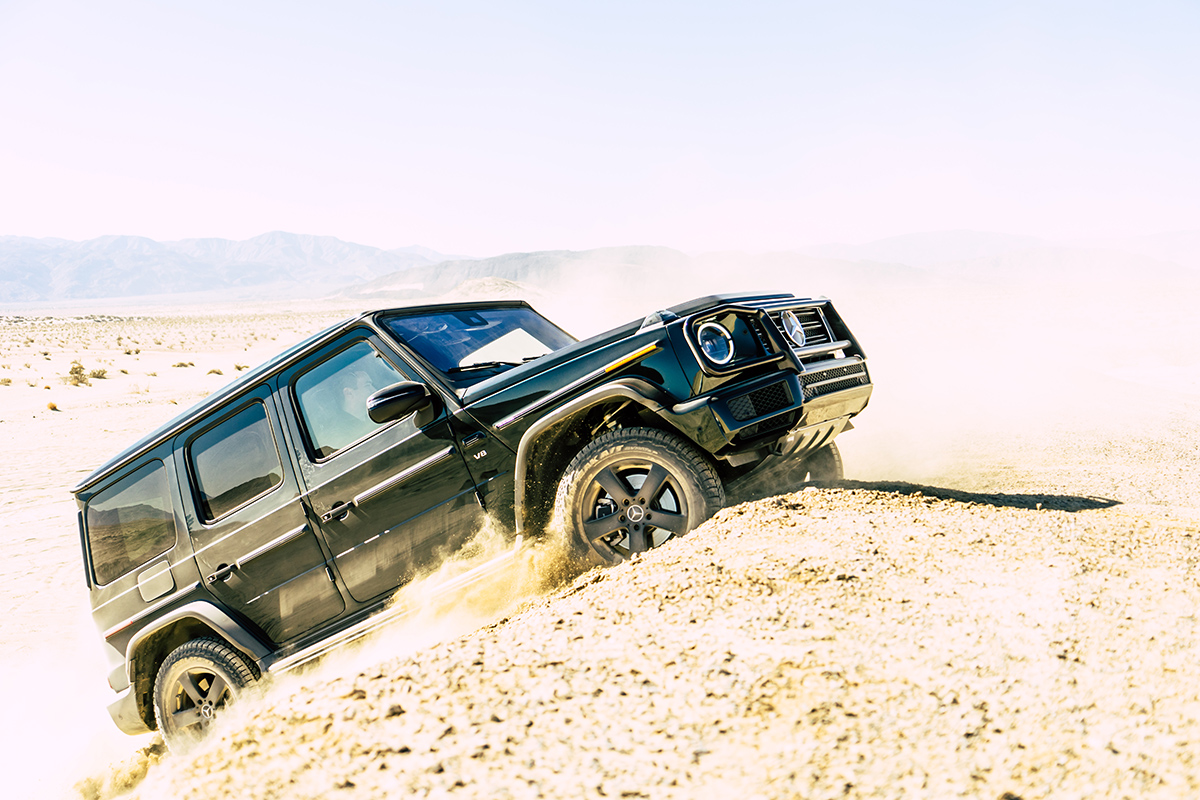 With All-New 2019 G 550 and G 63 AMG, Mercedes-Benz Has Redesigned The Iconic SUV For Tomorrow
Photos and Words by Atif Kazmi for Por Homme
The 2019 Mercedes-Benz G-Class is here and is the first official redesign of the iconic SUV since its launch back in 1979. Imagine that. Over the span of nearly forty years, Mercedes-Benz has given us a design that's withstood the test of time. Sure, it's had some tweaks and iterations along the way but the evolution's been a seamlessly beautiful one. And from becoming the official Pope Mobile to the G63 AMG 6×6 that was originally made for the Australian army, it's had a tremendous run.
The new G 550 and accompanying G 63 AMG would have some major shoes to fill and we recently made a trip to San Diego to test out both SUVs on and off the beaten path. This truly is "all-new" with only the door handles, spare wheel cover, and headlamp washer making their way over from the previous generation G-Class. The rest of the 2019 G-Class is brand new. All of it and yet it still looks like a G-Wagen should but moves better than you'd ever expect. That says a lot about just how dedicated Mercedes-Benz is to creating a G-Wagen for tomorrow without losing its heritage. The success of the G-Class is built on its process. From still being hand assembled in Austria to taking literally a hundred hours to hand stitch and hand build every single one, these are the elements that make the G what it is.
And so do its upright windshield and angular profile. The core resemblance remains but It's about two inches longer and nearly 5 inches wider. That expanded width helps it to own more of the road but it also drives more space to the interior. But from looking at it, you wouldn't know it's lighter. Much thanks go to the different blend of steel and aluminum utilized in the body as well as the aluminum doors.
Mercedes focused heavily on improving on-road performance. Its new suspension with double wishbone independent front layout and adaptive adjustable damping, a lot less weight, and a new nine-speed transmission all help to make the 2019 G 550 and G 63 AMG faster and more nimble. The G 550's electro mechanical steering system makes it a lot easier to maneuver also, allowing folks to pick from comfort, sport, and off-road driving modes. The G 550's 4.0-liter twin-turbo V-8 churns out 416 hp and 450 lb-ft while the G 63's handcrafted AMG 4.0-liter V8 twin-turbo engine brings along 577 horsepower and 627 pound-feet of torque. The G 63 AMG puts an even greater emphasis on on-road performance with Five DYNAMIC SELECT drive modes — Slippery, Comfort, Sport, Sport+ and Individual — plus three additional off-road modes — Sand, Trail and Rock. This is, by a long shot, the most comfortable G-Wagen ever built and that's going to put smiles on a lot of faces.
But there's no doubt that your biggest smile will come as you enter the G-Class's all-new cabin. It's refined, modern, and comes packed with the latest technology the German automaker has to offer. This is what a Mercedes-Benz interior should be. Its redesigned dashboard features an optional 12.3-inch digital instrument cluster that marries seamlessly with the 12.3-inch center display. Apple CarPlay integration is fluid and functions with ease. The center display isn't just for looks, it's also got the computing power to keep things running effortlessly.
Hand-stitched details can be seen throughout the interior while folks in the back can enjoy an extra 5.9-inches of legroom on the 60/40-split folding rear bench seat. G 63 owners get a flat-bottom AMG wheel with alcantara detailing alongside a slew of exclusive options which include Black Flamed open-pore Ash Wood, carbon-fiber engine cover, Cardinal Red Metallic paint, a set of 22-inch multi-spoke wheels, and the Exclusive Interior Package Plus, which includes a frameless rearview mirror, suede-like headliner, a leather-covered dashboard, heavily bolstered massaging front seats with heating and cooling functions, diamond stitching on the seats and door panels, and special floor mats. We'll take it all.
Speaking of taking, the all-new G-Class owns the off-road though chances are both the G 550 and G 63 will seldom see it. We're expecting the majority of G-Wagens will ship to Beverly Hills, New York, and Miami roads. We took it to the deserts of Ocotillo Wells in California just to push it to its limits. For owners of this rugged-yet-luxurious SUV, engaging "G Mode" allows them to shift from riding on-road to getting dirty off-road. This automatically adjusts the shocks, steering and throttle parameters for maximum off-road performance. The revised suspension helps with going faster off-road and increases ground clearance as well. Don't expect to scrape the bottom as you go up that excruciatingly steep driveway entrance. It can even get sideways. We tried this on a series of S-curves in the desert that had the G 550 on tilt at 35-degree, the SUV's side-hill limit. I could touch the sand next to us out the driver's side window and see nothing but clear blue skies from the passenger-side window.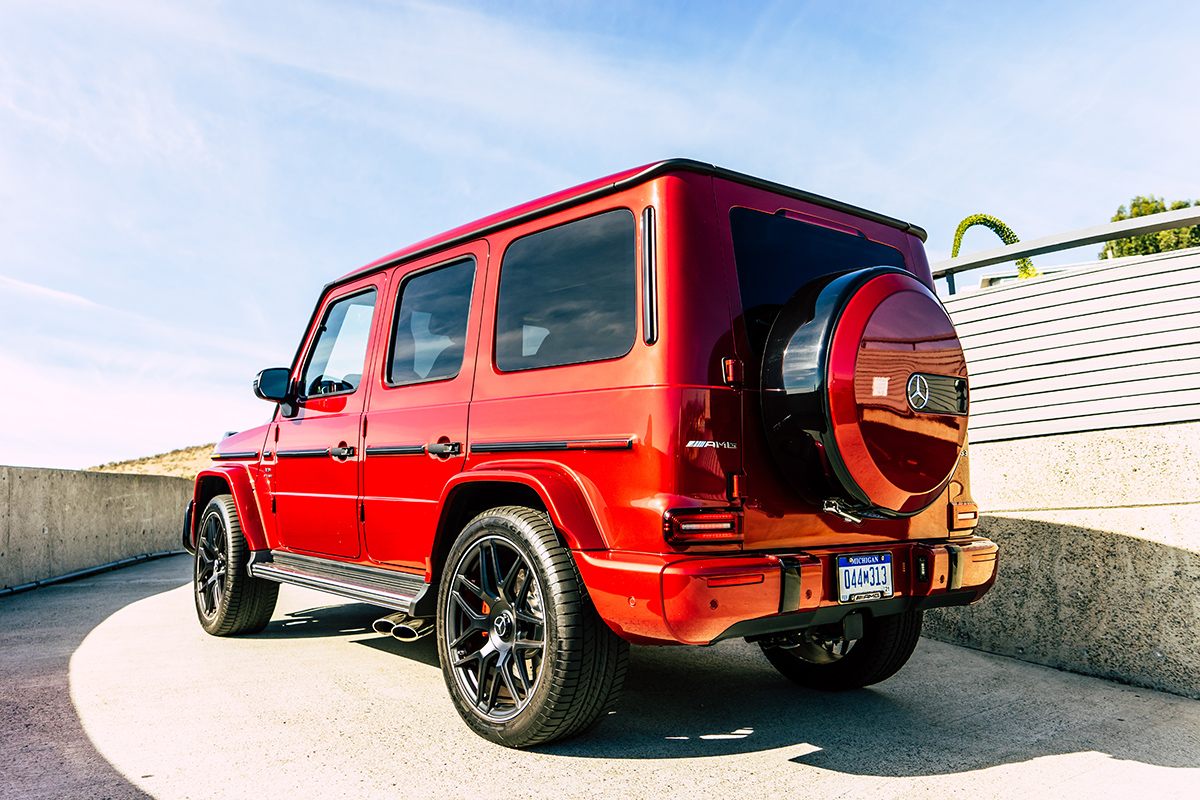 As rugged as the G-Class may be, it has been the status symbol for decades and will continue to be. This is especially the case for the G 63 AMG which accounts for nearly 50% of all G-Class sales. It's more powerful and its presence even more grand. And yet it still has those exposed door handles that we've come to love and that mechanical cluck sound the door makes when unlocking and closing. Through details like this, the new G-Class still has much of the old but has managed to usher in a new era for the iconic SUV. The only question remains now is are you opting for a G 550 where the bull bar is wrapped around the grill and headlights or the G 63 AMG where it sits across the bumper?
Check out both the 2019 Mercedes-Benz G 550 and G 63 AMG in the galleries above and head to your local Mercedes-Benz showroom to experience them in person.