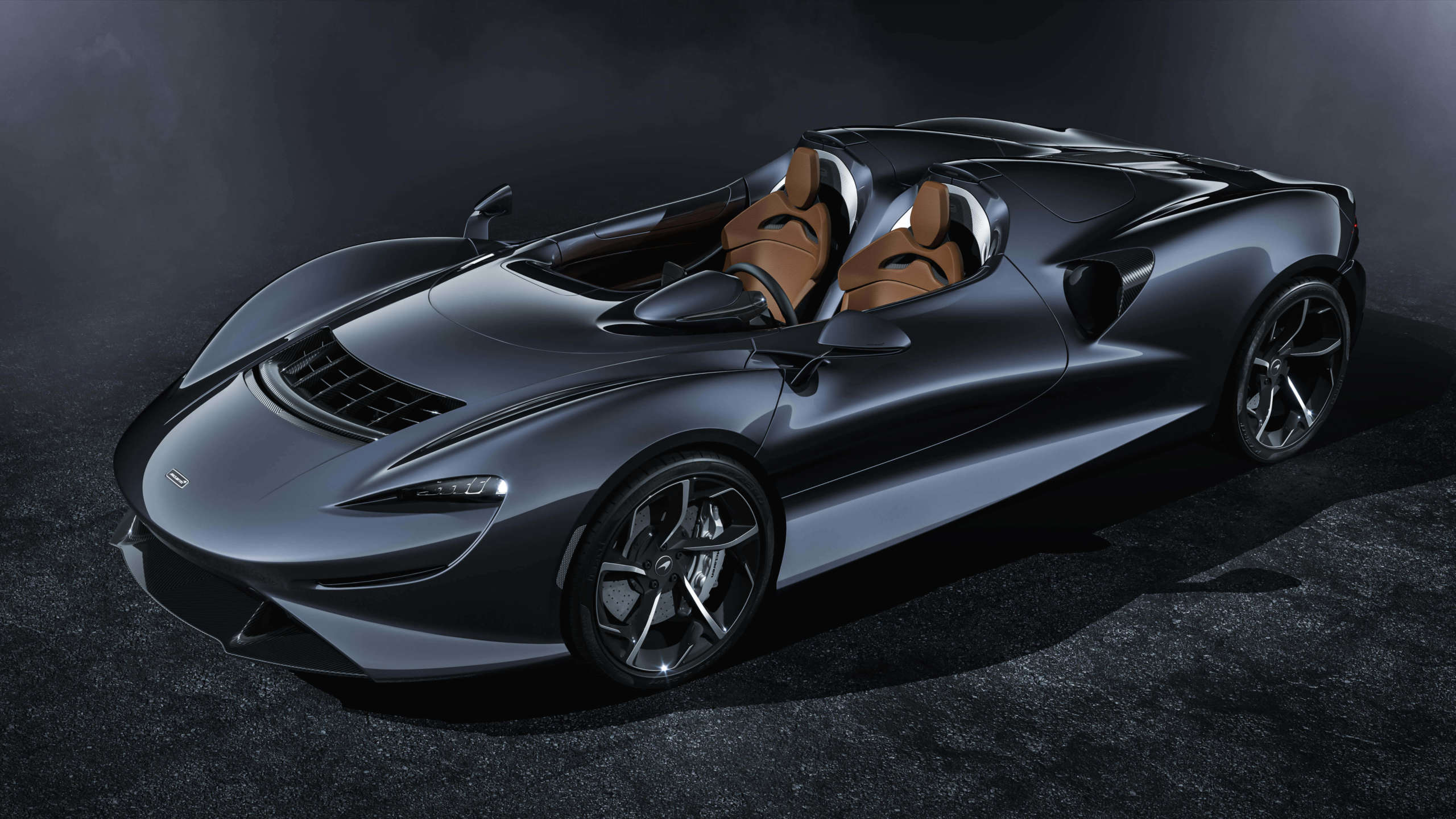 McLaren's latest Ultimate Series hypercar is the Elva and it's here as the lightest and one of the quickest cars from McLaren ever. Inspiration for the open roadster comes from the open race cars built by founder Bruce McLaren and the Elva sports company in the 1960s. Exaggerated wheel arches, discreet rear air scoops, low nose, and completely exposed cockpit make it look and feel like a classic race car. Blend that with elements from modern McLarens and you've got one heck of a design execution. Signature details come in the form of squinting headlights, slender taillights, and prominent air vents and diffuser in the rear. It's also got McLaren's butterfly doors and getting a windshield is option, but it's free of a roof and windows.
Under the hood sits the same twin-turbo 4.0-liter V8 seen in the McLaren Senna, except now it's churning out 804 Horsepower and 590 pound-feet of torque, courtesy of a high-flow exhaust. It's mated to a seven-speed transmission and a rear-wheel drive system that pushes the McLaren Elva from 0 to 62 mph in under 3 seconds and hit 124 mph in 6.7 seconds.
The Elva's light and though the final weight numbers aren't out yet, it's definitely under the Senna's 2,900-pound weigh-in. A new carbon fiber chassis and body and the deletion of so many other components helps it shed weight. It doesn't come with an audio system either but it's a no-cost option in case you want that. The seats are also carbon fiber and the light weight brake setup now get titanium calipers to shed a few more pounds.
Chances are you don't want wind slapping you constantly in the face, especially if you're not driving with a full-face helmet. In comes the McLaren Active Air Management System which is a series of vents, deflectors, and more, all designed to channel air around the passenger compartment. There's a storage area under the cowls behind the seat that can hold your headgear. McLaren's kept the interior as refined and functional as you'd expect. The seats can come in a range of materials, including leather with additional protective coatings or a new durable, breathable fabric. McLaren's latest infotainment system's on board here as well, spanning eight inches and featuring a control wheel off to the right.
Only 399 McLaren Elvas will be made, each priced at $1.69 million. See more of the McLaren Elva in the gallery.