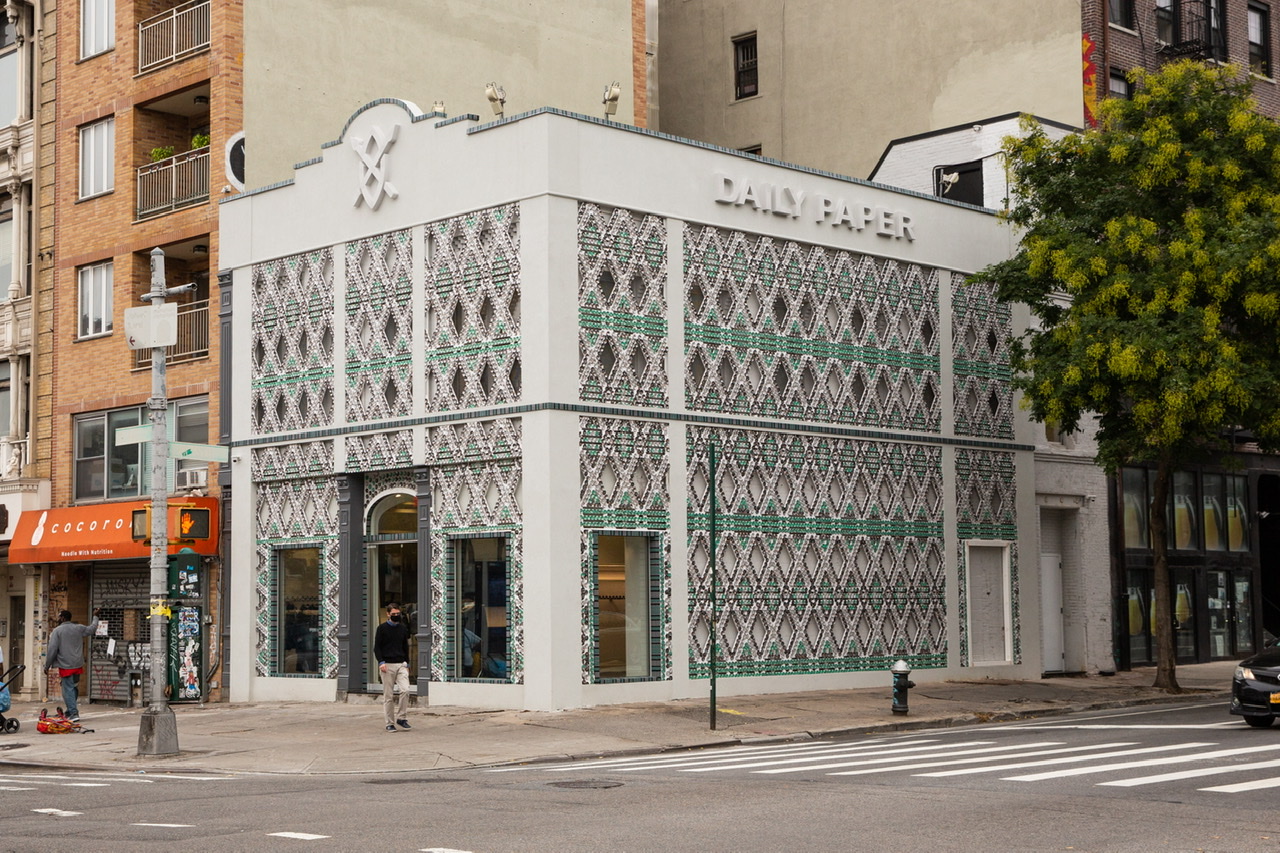 Now Open | Daily Paper's New York Store Marks a New Chapter for the Amsterdam Brand
This weekend marked the opening of the Daily Paper New York Flagship store, a pinnacle moment in the Amsterdam-based brand's history. Rich African cultural heritage meticulously flows throughout the space and the fashion label's extensive range of men's and women's pieces. With Delancey Street serving as a thruway to Brooklyn, the visibility is already tremendous but the two-story building's exterior makes it even harder to miss.
There's Dutch Gable over the entry and panels over the façade using recycled Arizona cans in a pattern that evokes the beadwork of Africa. Its presence is more likened to an art museum than a retail shop but representative of the brand's mission and purpose as it expands into the States. Daily Paper's new outpost aims to be a creative hub with a strong sense of community.
Inside is over 1,100 sq. ft. of space to let the brand's creativity run wild. Details are as rich as those found on the clothing. Statues on columns evoke the ancient subject with a present day character and mannequins designed with a futuristic glimpse with full height glass display cases for accessories to mirror the museum element. A mosaic as soon as you enter can be seen from the second level's glass floor paneling, integrating little lights in the position of the stars when Daily Paper was formed. Upstairs features a mural made from New York Times newspapers as well as a coffee shop.
With all this, you'd think the product takes a back seat but it's on full display. Strong lighting helps to ensure not a detail's missed. Daily Paper's current collection features a full range of accessories, ready-to-wear and a series of capsule collections created in collaboration within the music, culture, art and fashion sectors.
See more of the Daily Paper New York flagship store in the gallery and check it out in person at 18 Delancey Street. It's open from Monday – Saturday from 11AM – 7PM and Sunday from 11AM – 6PM
Photo credit: Alec Kugler for Daily Paper