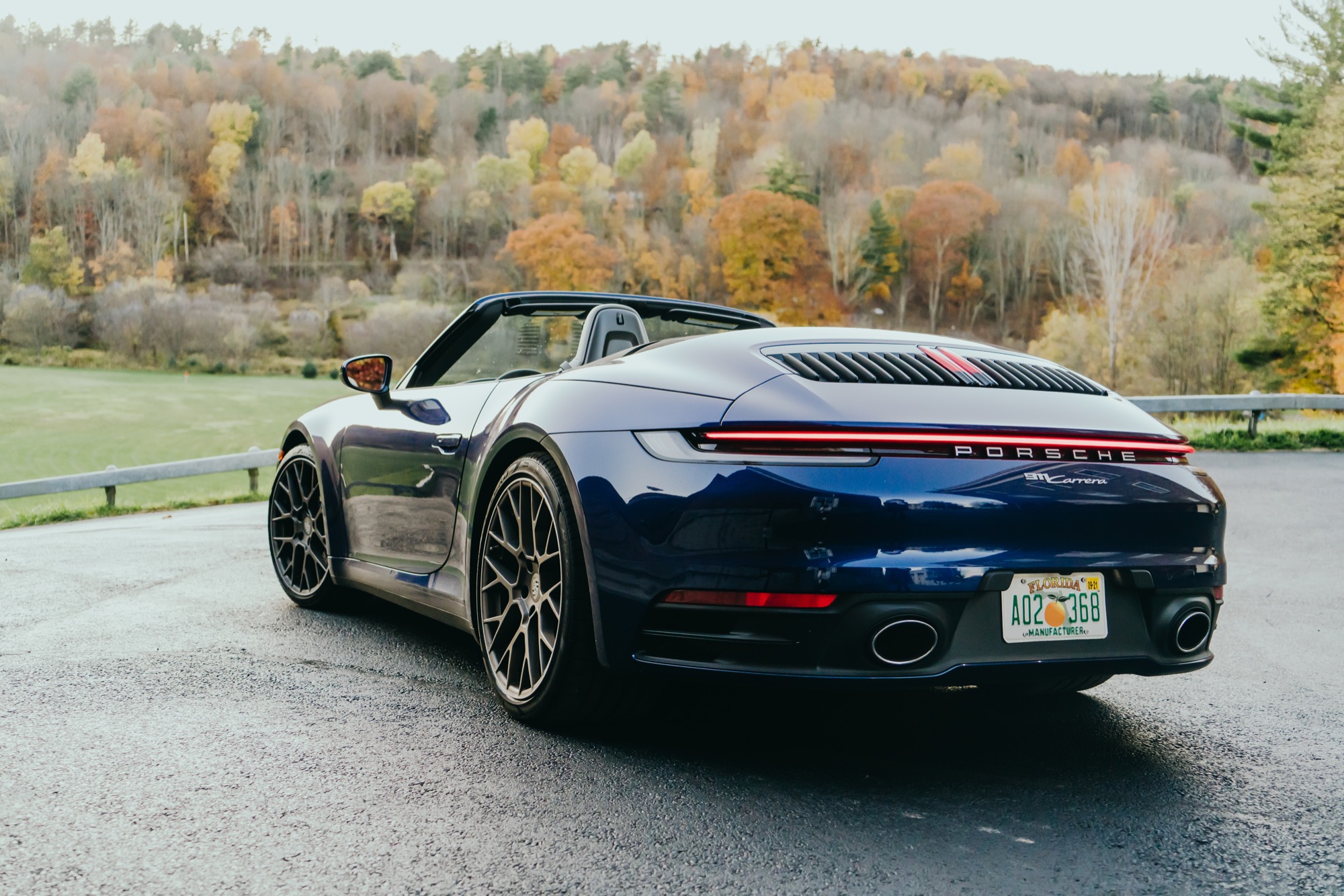 In a Sea of $100K Sports Cars, The Latest Porsche 911 Carrera Cabriolet is an Easy Choice
Words and photos by Atif Kazmi for Por Homme
Porsche's latest generation of the 911 is the most advanced and arguably the most refined. But it's come at a time when the competition has repositioned some of their offerings and moved up market to compete head-on with one of the most iconic sports cars ever. When exploring the 992 Porsche 911 Carrera Cabriolet, the competition remains fierce but the decision becomes easier. We recently spent time with the open-air coupe and saw first-hand just how versatile Porsche's latest creation can be.
I've been trying to make sense of the 911 for quite some time. How does a package that's so understated consistently manage to garner so much attention? Porsche's approach has been rooted in getting the details right and that's really made the latest 911 the center of conversation. Shown here is a Gentian Blue Metallic finish which helps to accentuate the hips of the new 911 body. That widened front track helps to deliver better handling but it also brings forth a more confident stance. Out the box, the new 911 gets wider rear fenders and that alone makes the entrance into the variant-heavy sports car more enticing than ever before. The exterior's finished off with staggered 20- and 21-inch RS Spyder design wheels in a gunmetal finish.
Though a droptop, the new 911 Carrera Cabriolet is a tremendous all-season driver. The new softtop has shed some weight from the previous generation and retracts in just 12 seconds. That lets you go roof-less whenever a warm day pops in during the cooler months. When the roof's sealed, you can enjoy a comfortable, refined cabin that's perfect for morning coffee, evening dinners and everything in between. Our 911 featured a slate gray / chalk interior and brought with it the Sport Chrono Package and adaptive 18-way sport seats. SCP opens the 911 up with launch control, a range of drive modes, and more.
The new 911 is powered by Porsche's twin-turbo six-cylinder engine and your choice of an automatic or manual transmission. The Carrera Cabriolet delivers 379 horsepower and 331 lb-ft and that might seem light in comparison to many of the other 911 variants, it sure knows how to put it down. Nonetheless, Porsche's offered an S option that cranks things up significantly for those that want it.
The 911 Carrera Cabriolet starts at $110,200 and with all the right options will run about $130,000. See more of it in the gallery and head to your local Porsche dealer to experience it for yourself.