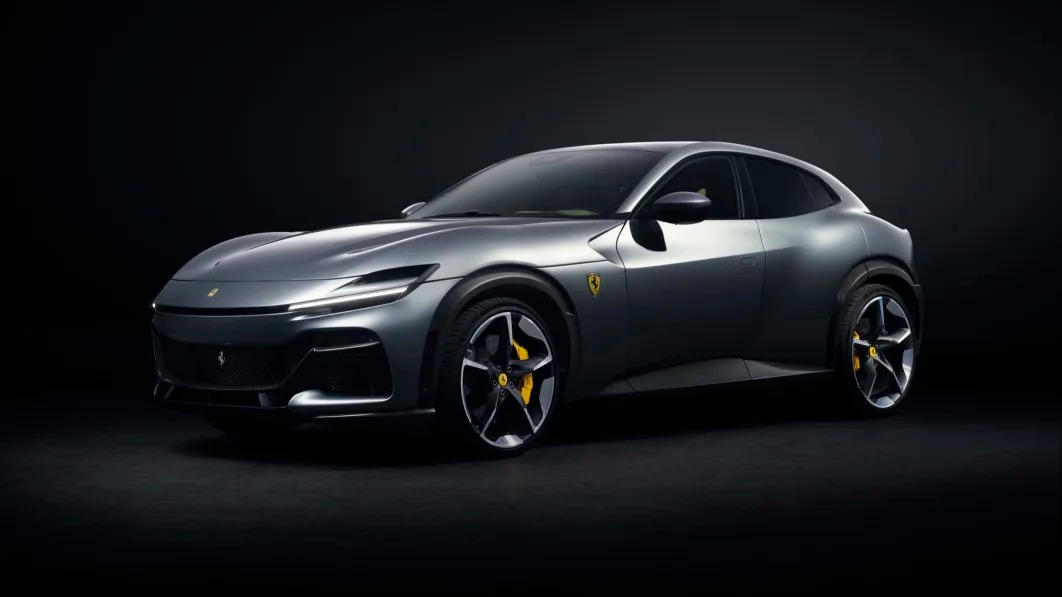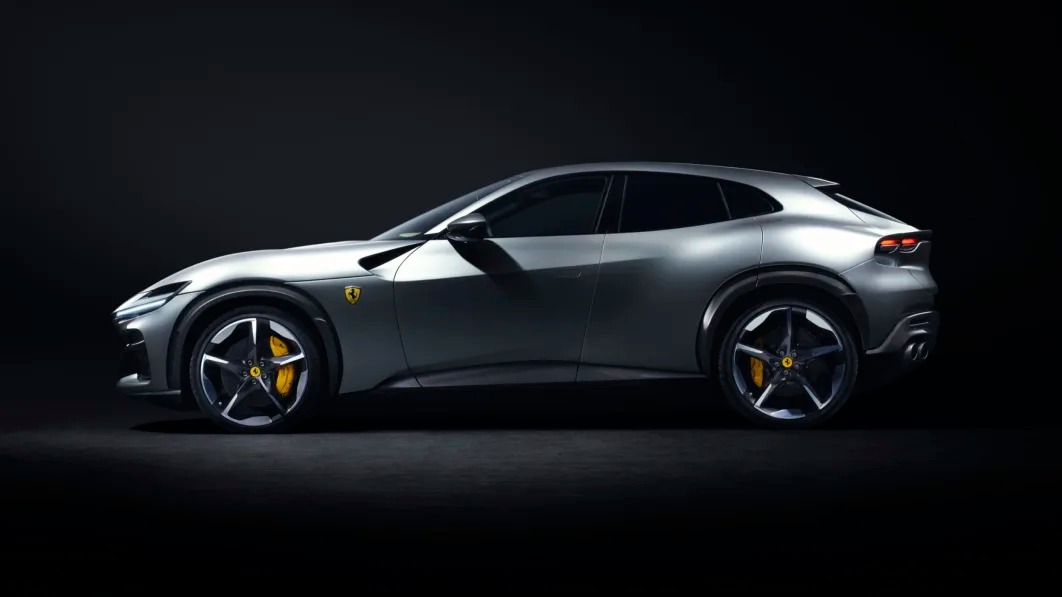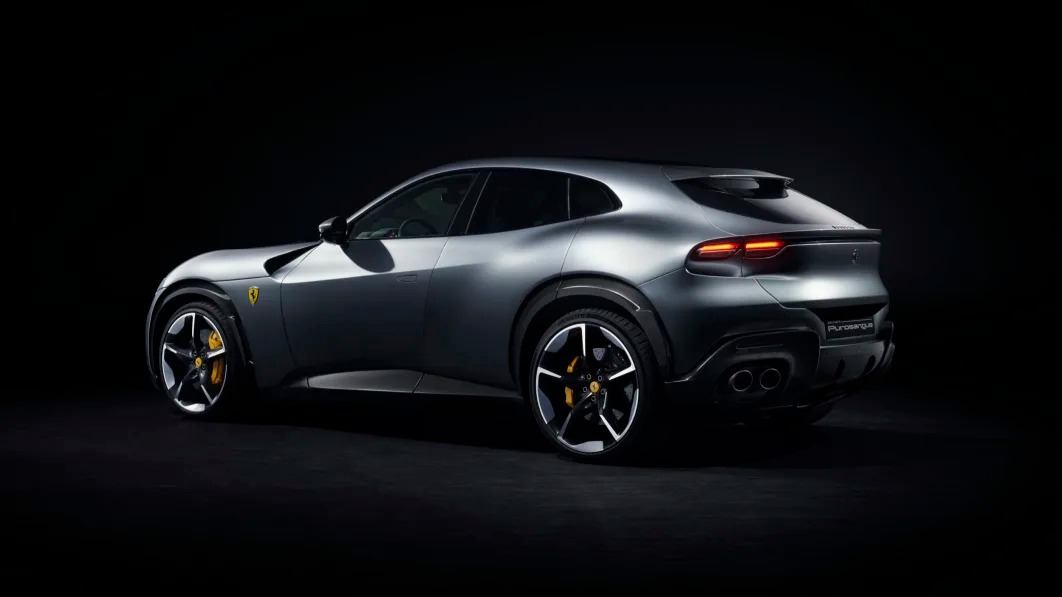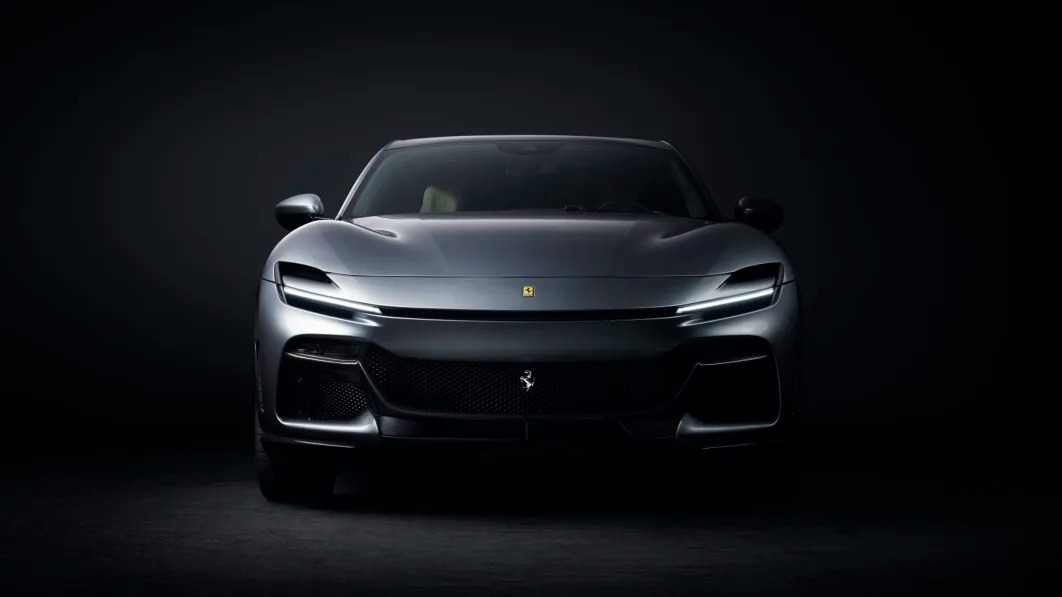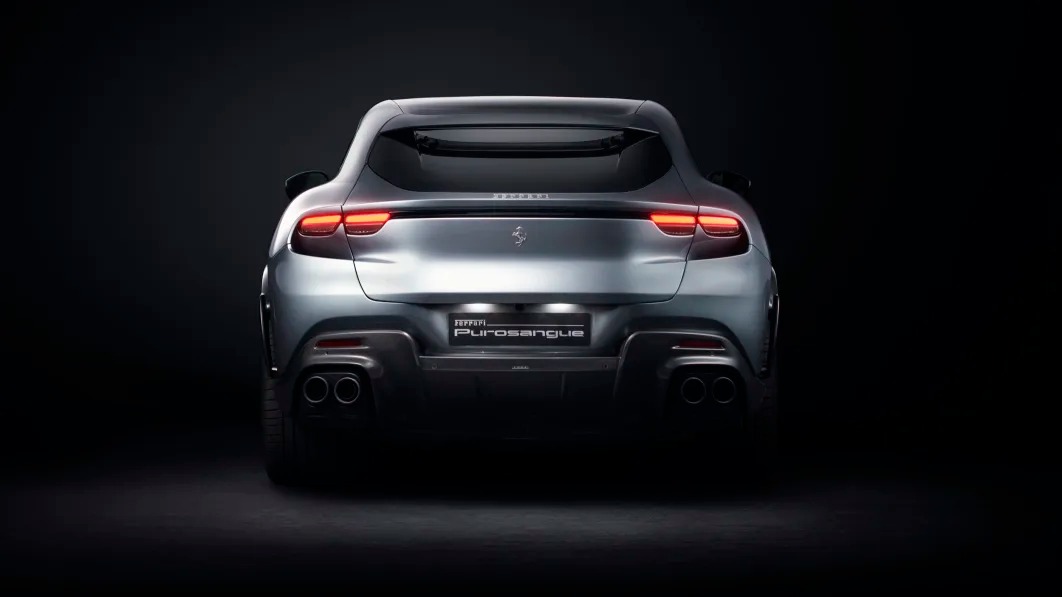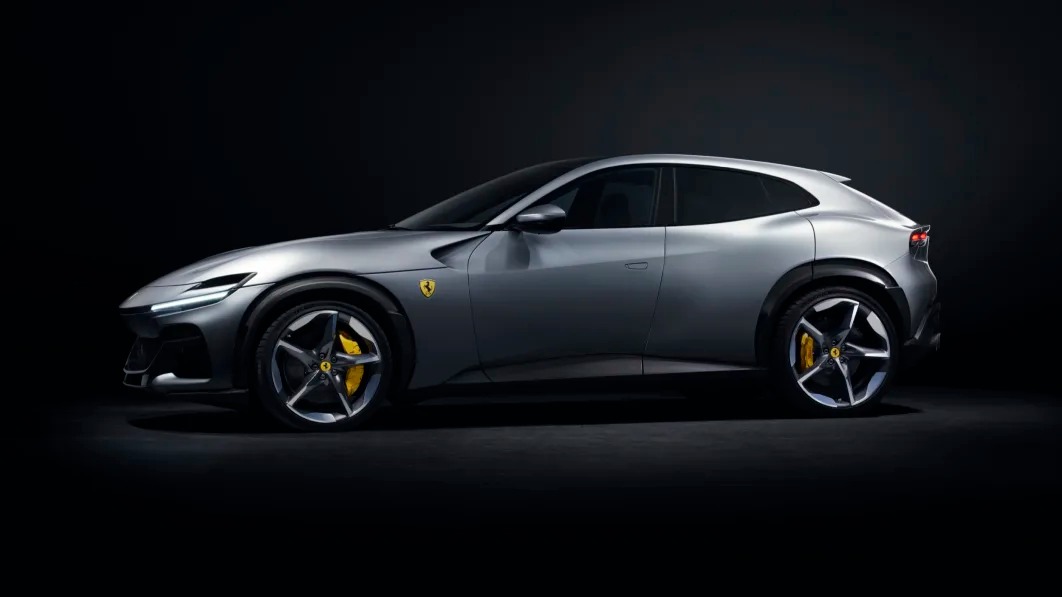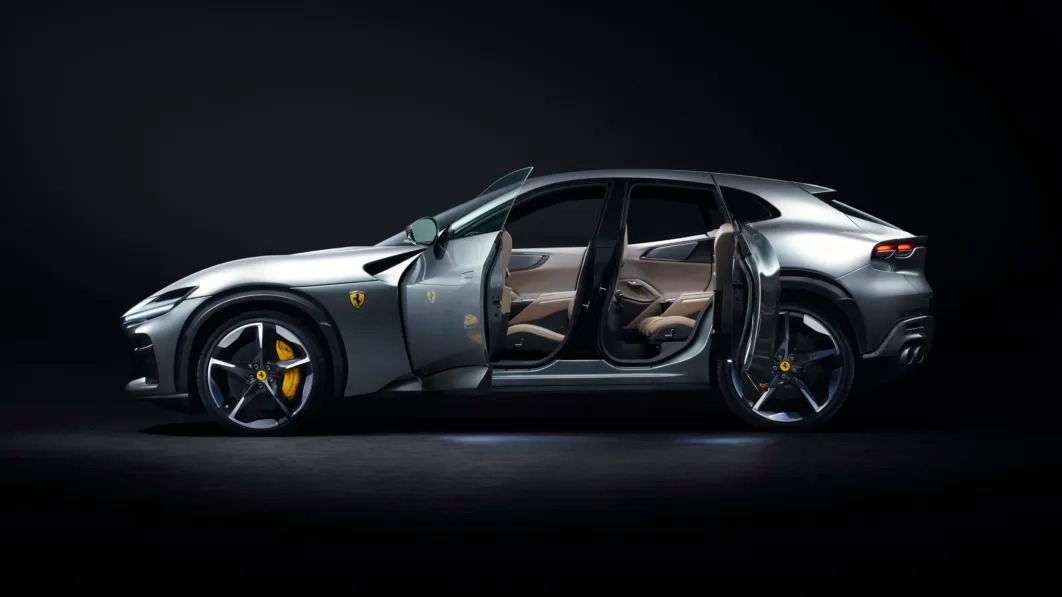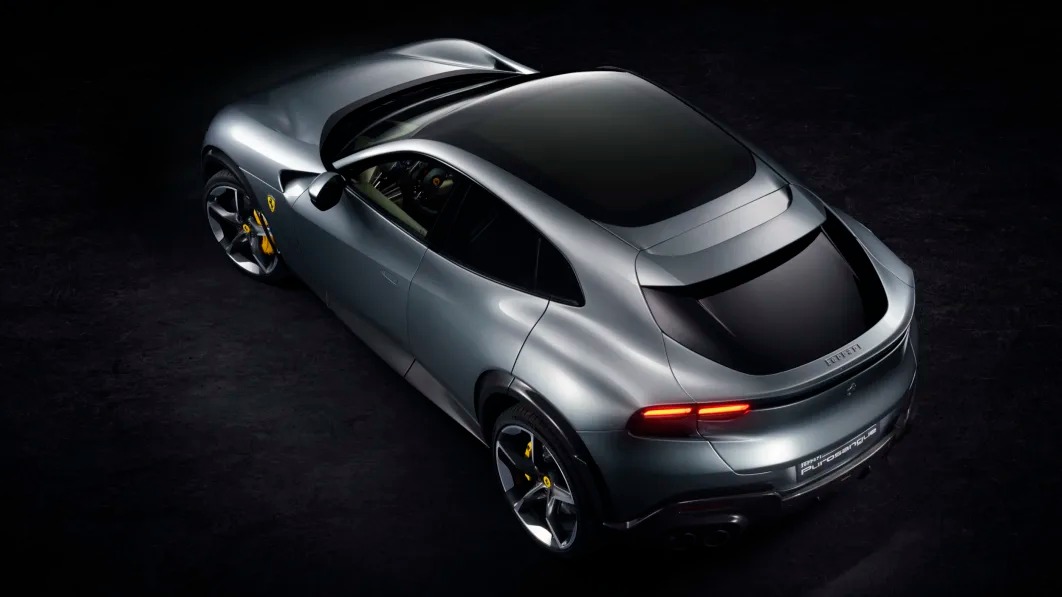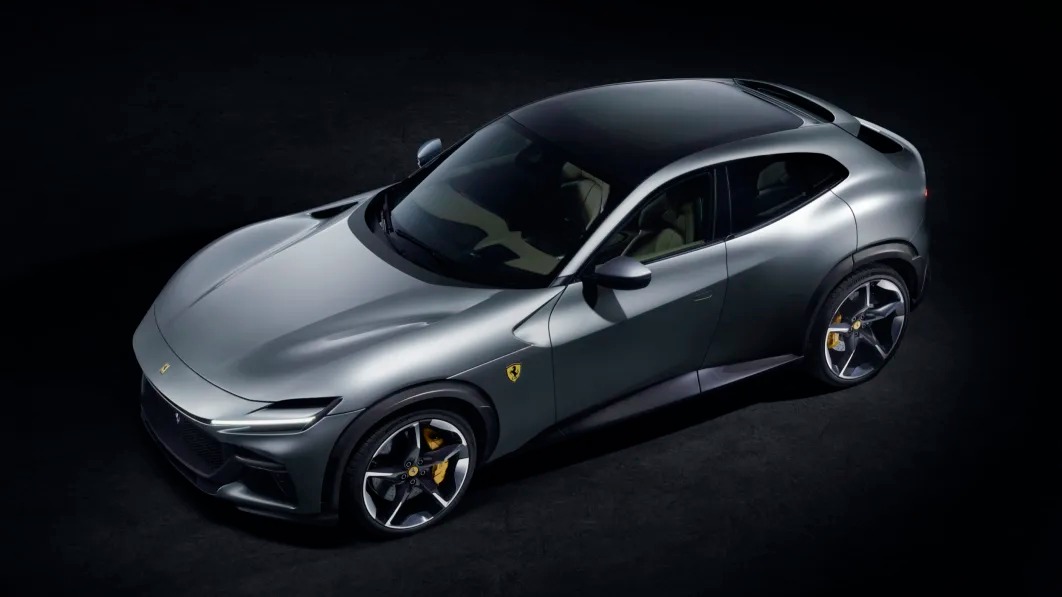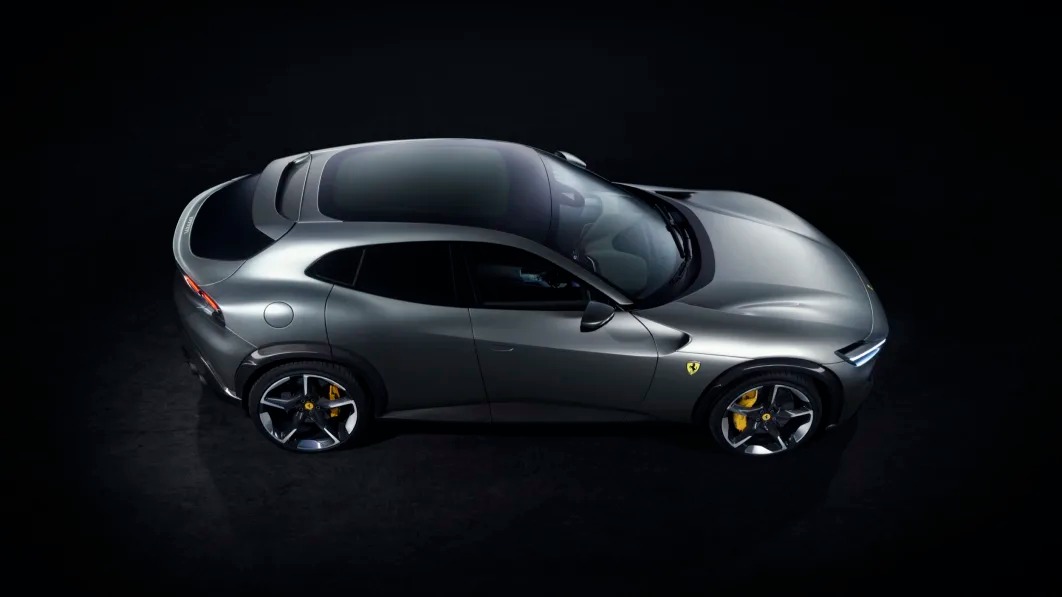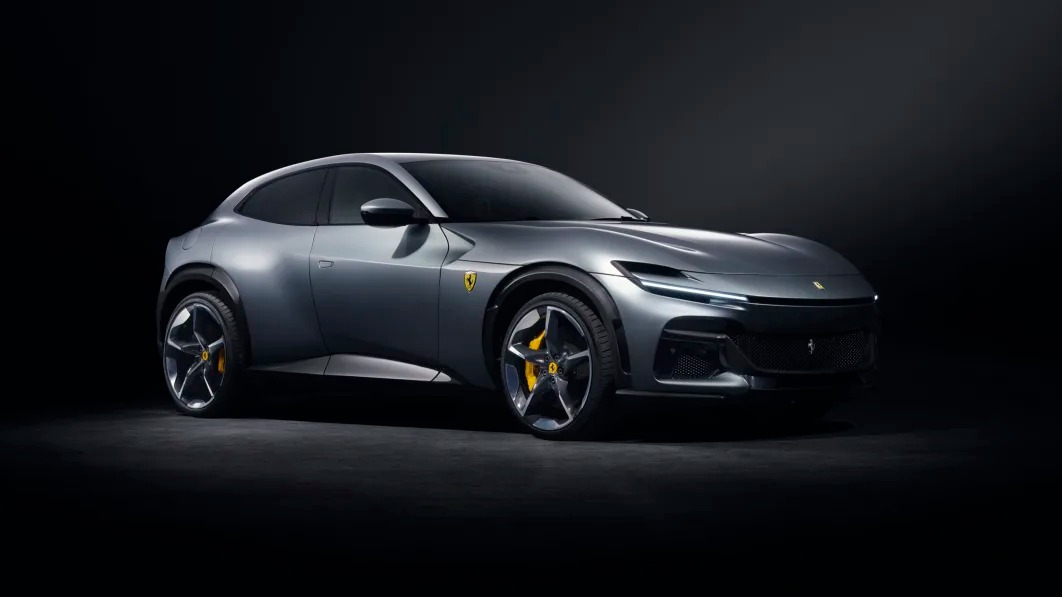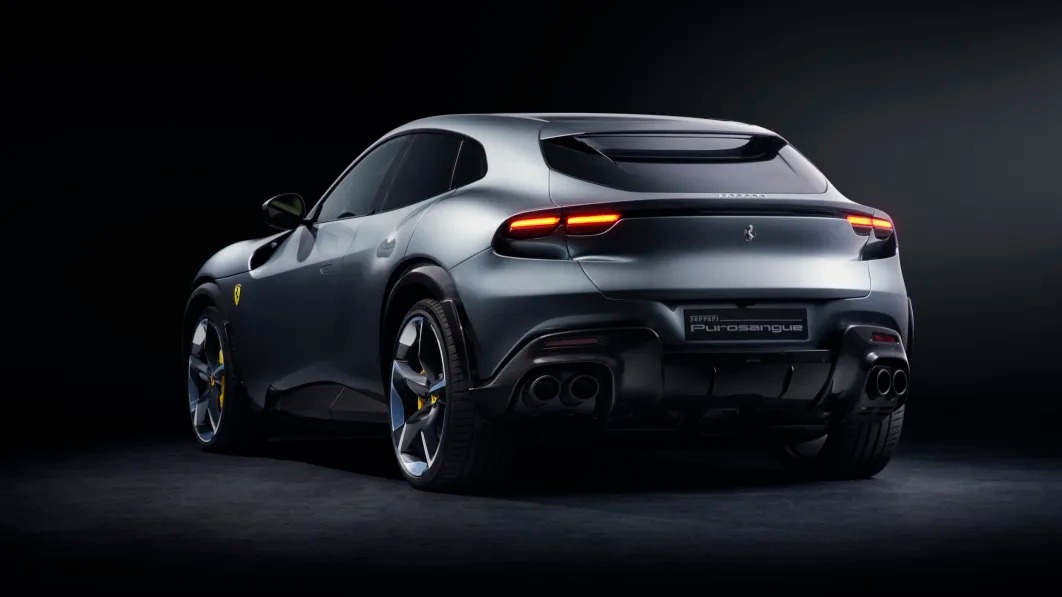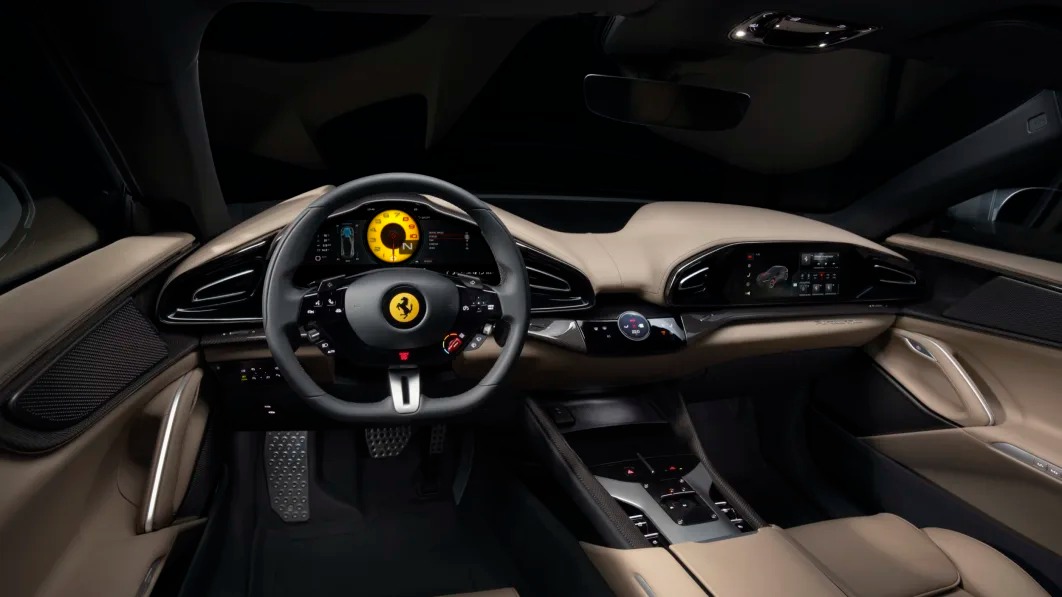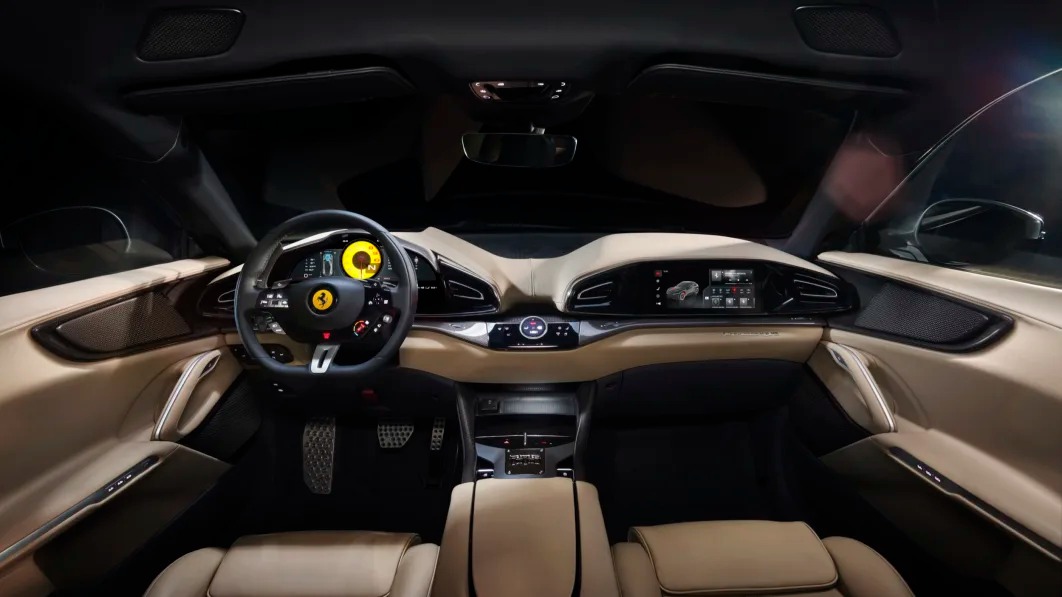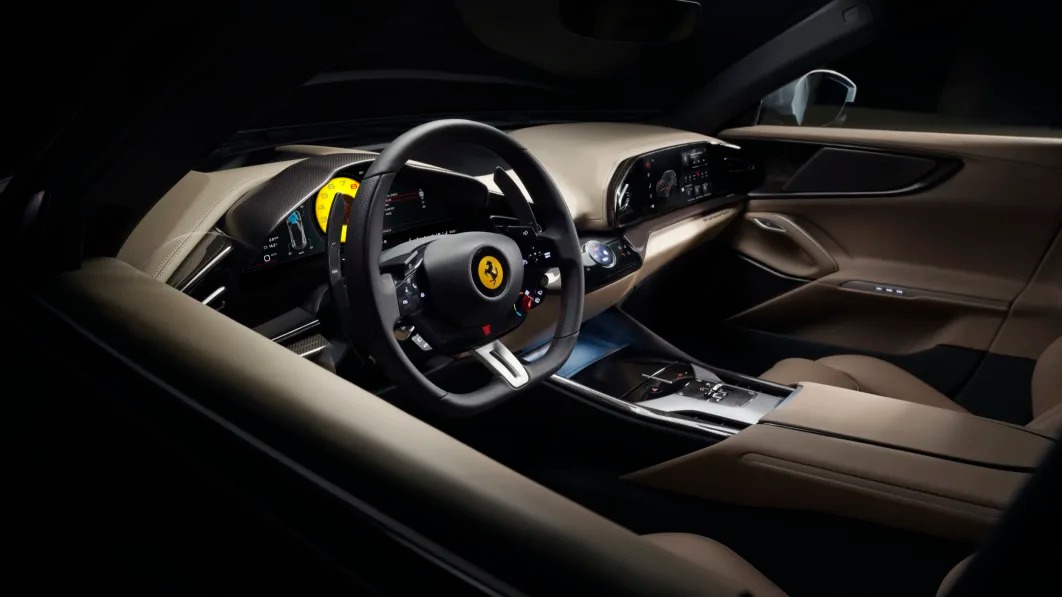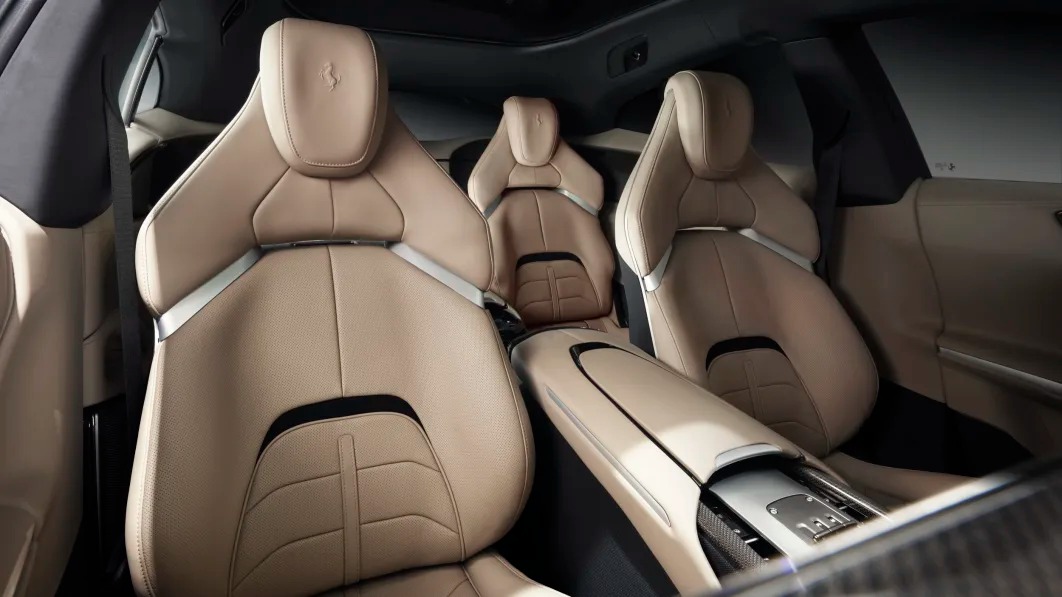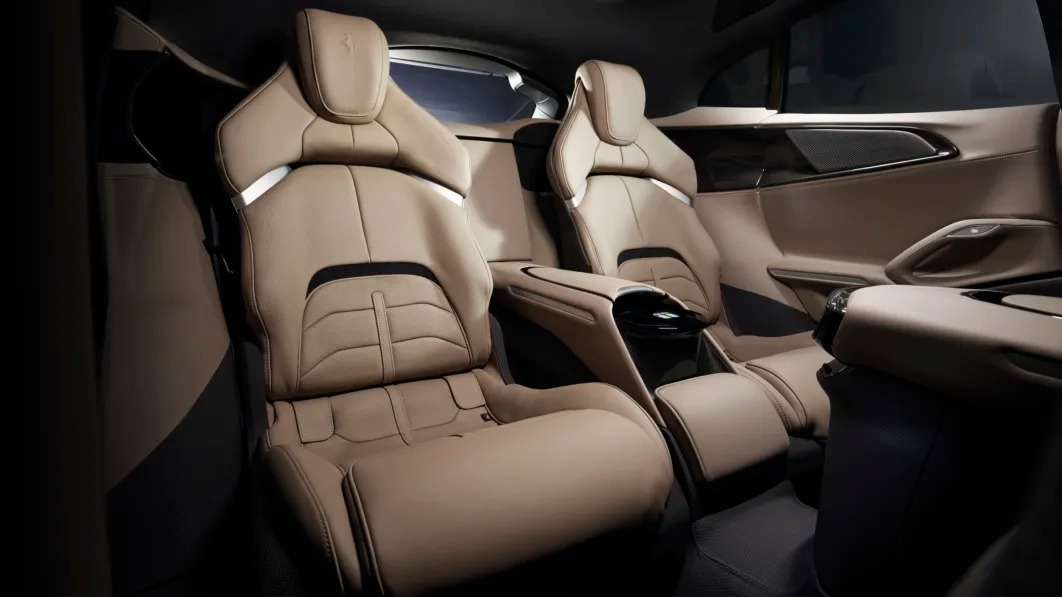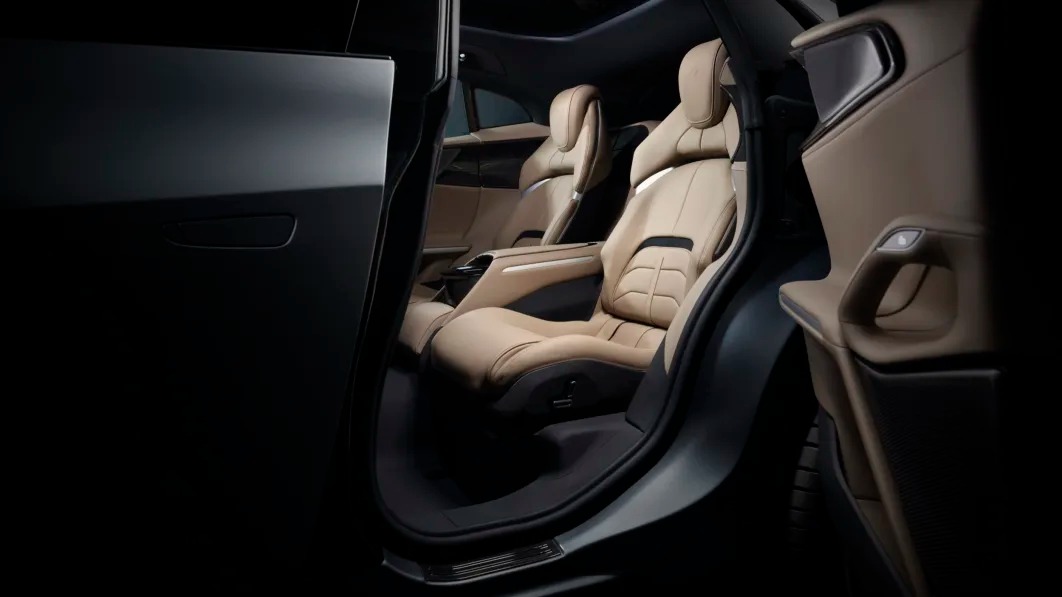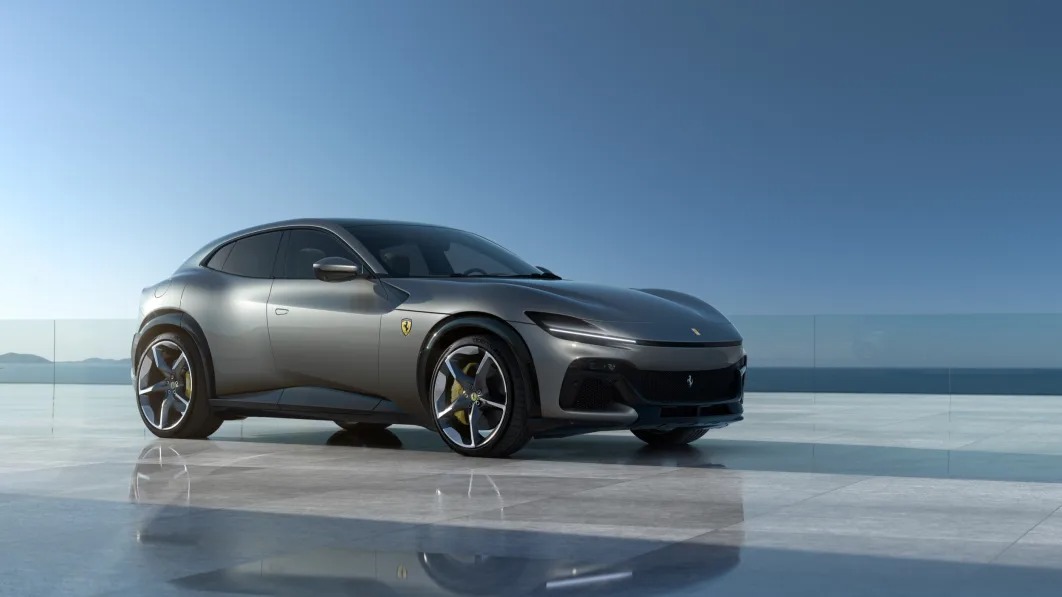 Ferrari introduces the Purosangue, ts first-ever four-door, four-seater crossover.
The aerodynamic profile is built to go fast, from the hood aerobridge designed to reduce drag, sleekly arching roofline, to the tapered rear deck. The Purosangue's carbon fiber roof reduces weight near the top of the vehicle, while aluminum makes up the lower parts of the body. It has no rear windshield wiper, relying instead on airflow to keep the rear window clean. The car's narrow headlights feature air intakes above and below them. 
Under the hood, the Ferrari Purosangue sports a naturally-aspirated 715 HP 6.5-liter V-12 engine delivering 528 lb-ft of torque. A redesigned valvetrain, induction, and exhaust systems will enable the powertrain to see 80% of its torque from 2,100 rpm. A combined dry sump system, front-mid-engine configuration and rear transaxle system makes for a lighter overall structure at a dry weight of 4,482 pounds. Paired with an eight-speed dual-clutch gearbox, Ferrari claims it should power the Purosangue to 62 mph in just 3.3 seconds with a top speed of 193 mph.
The Purosangue's adaptive suspension comes standard. Eschewing traditional anti-roll bars, the car uses a Multimatic technology electric motor for each shock absorber to apply force to the dampers during cornering maneuvers to control body roll. It can go low during hard driving by reducing its ride height by 0.4 inches. The Purosangue rides on 22-inch rims up front and 23-inch wheels at the rear.
Its driver's cockpit looks similar to a 296 GTB and includes modern amenities like a small multimedia control dial with grooved edges that raises or recesses at the touch of a button, passenger access to a 10.2-inch touchscreen, USB sockets, and numerous shallow storage compartments that line sections of the interior. The car's system also supports wireless charging, while Apple CarPlay and Android Auto are standard.
The Purosangue's interior comes with a host of luxury and performance features, including four full-sized and fully adjustable heated bucket seats with their own climate control system. The rear seats fold down for added storage and flip-up leather cover for two cup holders between them. For storage, the Purosangue comes with a 16.7 cubic-foot trunk. Leather upholsteries and Alcantara carpet trim gives it that upscale feel. Ease of entry is achieved through the use of power-actuated suicide-style frameless rear doors that have a 79-degree opening.
Personalization options are available to potential owners who can opt for military-grade bulletproof fiber flooring, copper wire woven carbon trims, electrochromic glass roof, massaging front seats, and more.
The Ferrari Purosangue price starts as high as $400,000 when deliveries start near the end of 2023.