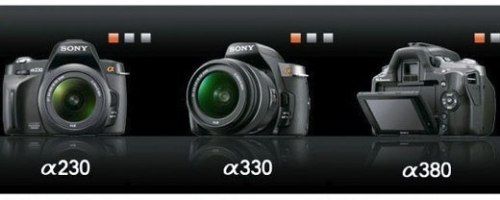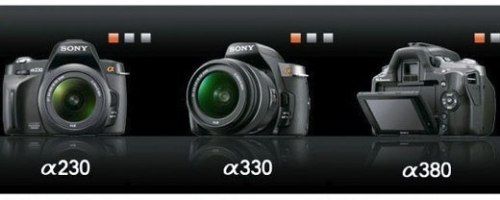 Sony's been leaking specs and info on their new line of DSLRs and they've finally decided to officially confirm everything. The cameras are set to support SD/SDHC along with Sony's very own Memory Stick format. The shooters will retail in two different kit types, with the L-series cams ringing in at $550, $650 and $850, respectively, when paired with the SAL-1855 standard zoom lens. The Y kit series adds a second lens, the telephoto SAL-55200, along with bumping the kit price $200 across the board.
Look to pre-order yours today, with availability to be in July.
Camera-specific specs after the jump. 
α230
APS-C CCD with 10.2 million pixels
BIONZ image processor
Anti-dust system
2.7-inch LCD (230,000 pixels)
9 point autofocus with crosshair
Dynamic Range Optimization for the brightness setting and adjustment of motifs with backlight
SteadyShot, compatible with all a lenses
Integrated automatic Ausklappblitz
Viewfinder with 95% field coverage
HDMI port
BRAVIA Sync
Dimensions (WxHxD): 128 mm x 97 mm x 67.5 mm
Weight (without battery): 450 g
α330
APS-C CCD with 10.2 million pixels
BIONZ image processor
Anti-dust system
Tilt 2.7-inch LCD (230,000 pixels)
Quick AF Live View: quick auto focus and a live preview on the LCD display
9-point autofocus with crosshair
Dynamic Range Optimization for the brightness setting and adjustment of motifs with backlight
SteadyShot, compatible with all a lenses
Integrated automatic Ausklappblitz
Viewfinder with 95% field coverage
HDMI port
BRAVIA Sync
Dimensions (WxHxD): 128 mm x 97 mm x 71.4 mm
Weight (without battery): 490 g
α380
APS-C CCD with 14.2 million pixels
BIONZ image processor
Anti-dust system
Tilt 2.7-inch LCD (230,000 pixels)
Quick AF Live View: quick auto focus and a live preview on the LCD display
9-point autofocus with crosshair
Dynamic Range Optimization for the brightness setting and adjustment of motifs with backlight
SteadyShot, compatible with all a lenses
Integrated automatic Ausklappblitz
Viewfinder with 95% field coverage
HDMI port
BRAVIA Sync
Dimensions (WxHxD): 128 mm x 97 mm x 71.4 mm
Weight (without battery): 490 g