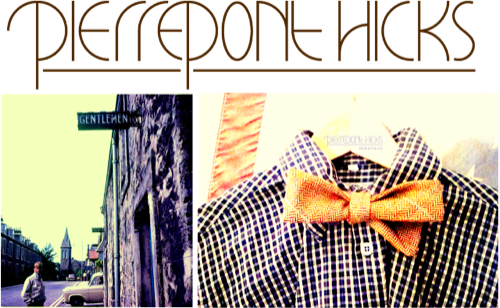 Meet Pierrepont Hicks, the Minneapolis-based neckwear company that recently launched its debut collection. Married entrepreneurs Mac and Kat launched the label with guys like us in mind. Mac does the numbers, Kat handles the design (and frequently will ask his opinion; sometimes she even agrees with it). With experience in fashion and publishing in New York for over ten years, Kat spent time at Ralph Lauren, Calvin Klein, Gourmet and Elle magazines. The duo searches the globe to find the best textiles. The pieces are produced in New York City's Garment District and Mac and Kat have ensured us that Pierrepont Hicks will always be American-made.
PH has mated top quality fabrics with color combos that make a statement. The ties are produced in a series of three styles: The Classic Necktie, a Two-Tone variation along with the Reversible Bowtie. For the Fall/Winter season, Pierrepont Hicks offers the Mackers, Giles and Field series, each bringing a distinct style to the Pierrepont Hicks brand. The Fergus (silk/wool blend) and Twigg (100% cashmere) series are yet to be unveiled but you can catch a sneak peek of the designs after the jump.
By continuing to create beautiful and innovative designs, we see nothing but great things to come for Pierrepont Hicks.