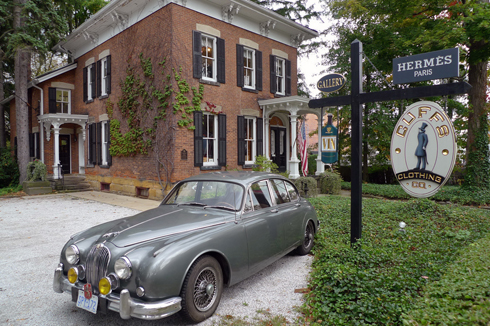 GQ turns us to Cuffs Clothing, a men's shop in the suburbs of Ohio. Most are wondering, "Why Ohio? Why Cuffs Clothing?" Well, Cuffs Clothing because it's a shop with all the proper fittings of a traditional men's shop. It's old school, my friends. It's got everything you need from a navy blazer to PJs without the corporate bullshit. "Folks looking for weekend digs can find bliss in waxed Barbour jackets and Jean Shop denim, but the store's real strength is it's suiting. Owners Roger and Patty Kowall opened the store with the intention of sharing some of their favorite things from their travels across the US and abroad with their customers back home, which is why they carry fine American suit makers—like Oxxford, Southwick, and Hickey Freeman—and European staples like Brioni, Hermès, and Kiton." And Ohio because Cuffs Clothing is there.
Comparing it against any of our favorite NYC or LA shops could make for some great dinner conversation, but we're afraid that since Cuffs Clothing has been doing things right since 1981, the odds of standing victorious are in its favor.
More images of Cuffs Clothing after the jump.
18 East Orange Street, Chagrin Falls, Ohio; 440-247-2828; www.cuffsclothing.com