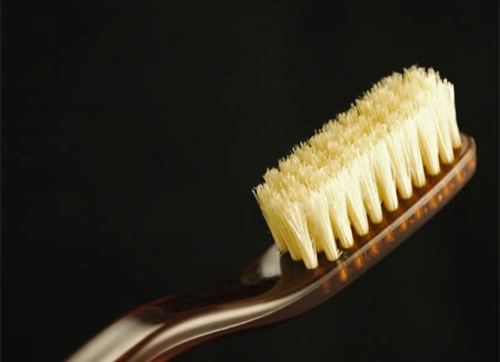 There's much reason behind my decision to ditch the the modern toothbrush and go with an old-school natural bristle offering instead. Most of it stems from the fact that I'm fed up with the overly-commercialized dental care industry. Fact is when I used to walk into a drugstore to pick up a few necessities, I spent the most time looking for the right toothbrush. There are a hundred varieties of the same nylon bristle toothbrush, which tends to become less effective much quicker than its natural bristle counterpart.
About a year ago, I came across what would turn out to be my first natural bristle toothbrush. The manufacturer was SWISSCO, a Switzerland-based company known for making other essentials ranging from hairbrushes and men's razors to foot & nail care accessories. I've bought a few more since then, but no where close to how many synthetic toothbrushes I've purchased on an annual basis in years past.
They're available in soft, medium or hard and have delivered really positive results. Apart from the performance aspect, the design of these natural bristle toothbrushes is inviting as well with several finishes in stock including white horn and tortoise. Each toothbrush comes in a clear case that's fitted with drain holes, which help to keep the brush dry and to avoid bacteria buildup. If you can't find them at your local drugstore, SWISSCO has them for $4 each, which is a no-brainer.