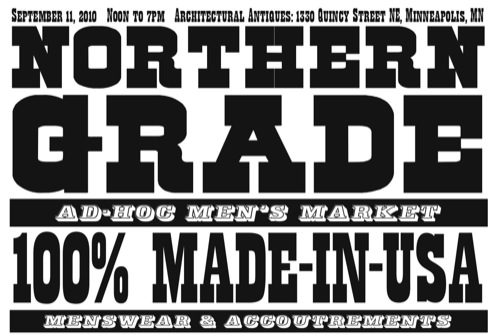 On September 11th, Minnesota-based J.W. Hulme Co. and Pierrepont Hicks will play host to some of America's finest brands as they present NorthernGRADE. The pop-up men's market will be located at Architectural Antiques in Minneapolis and will only feature authentic made in USA labels. Alongside the hosts, the short list also includes old school classics like Red Wing and Russell Moccasin Co. as well as the leaders of the new school, Taylor Stitch.
We had the opportunity to sit with Jen Guarino, President of J.W. Hulme Co., to talk NorthernGRADE, this whole "heritage" movement and much more. Also, not sure if you guys caught this last week, but Michael Williams from ACL actually showed off a notebook made by J.W. Hulme Co. That beauty is going into production, folks, and we got Jen to give us pricing and availability info as well. Hit the jump.
—

For anyone not familiar, could you clarify your role at J.W. Hulme Co.
President. I primarily drive branding, product design/development, sales and marketing.
Could you give us a short list of what anyone heading to Minneapolis on September 10th and 11th can expect from NorthernGRADE?
Two days of celebrating our local brands from Red Wing to Fox River to Stormy Kromer to Russell Moccasins. The average shopper can come in, grab a beer and bite, listen to music, hang out all day, and talk to vendors about their products and how they work.  We want it to be a relaxed atmosphere with the consumer feeling like they learned something that day. Live music from Erik Koskinen. Great food from local 128 Café – see menu here: https://www.128cafe.net/menu.htm
You've teamed up with neckwear maker Pierrepont Hicks for NorthernGRADE. Was that decision based purely on your shared roots?
Being MN based certainly played a role but it was our shared desire to champion the celebration of authentic American-made classic products that deeply connected us. We believe people want it and we want to show them they are here.  We also both share the belief that this trend is worthy of becoming a long term thriving category long after the fashion trend cools. We believe this involves both promoting heirloom brands like JWH as well as introducing contemporary newer brands like PPH who are interpreters of traditional style but insist that "American-made" be an integral part of honoring their classic inspirations.
What is the men's market like in Minnesota? What kind of man do you think NorthernGRADE will attract?
The men's market in Minnesota s growing through shops like Martin Patrick 3 and BlackBlue;  Focused boutiques bringing in brands that you may not find at other retailers.  We've got the serious outdoorsman here who may be an IT guy at Target or an Creative Director at Fallon during the week.  Successful, creative men who buy the best for themselves are changing our market here – not because a magazine declared it trendy, but because it may be the highest quality and most durable item out there.
What are your views on the "Heritage" movement that's gained much traction as of late on a national scale?
We think it is a reflection of our society's hunger for authenticity and connection to traditions we have lost or are losing. It's also a pendulum swing from away from style hinging on trend alone,  lacking quality and paying a lot for that disposable trend. We're seeing an appreciation for evergreen styles that are built on quality and classic styling rather than something  with a big gold logo on it, made from China and will high price tag not backed with anything of real value. These heritage brands are making products that are investment purchases but have quality to back the investment; making them candidates for becoming heirlooms rather than something to add to a landfill.
Additionally, It's something folks in the Inlands have had going on for generations, is it not?
That's true. When a brand earned its reputation for quality here it kept it. The reputation was passed down through generations of consumers.  The reputation lasted because the quality withstood time. What's different now is that these true heritage brands are a rarity. Like anything rare they are being sought out. The appreciation for them has gone up and as a consequence so has their value. Ironically, our crusade is to make them less rare but rather an expectation that consumers want more of. We think that is good in more ways we can count.
Men are more cautious shoppers and are usually considered to be more loyal as well. How does that align with J.W. Hulme Co.'s philosophies and brand strategy?
Simply put, we return loyalty with loyalty. We're still doing what we have for over one hundred years. We haven't sold out our quality. We haven't cut corners. We still back our products for a lifetime. We're here long after the purchase. When you call us a real person picks up the phone.
With J.W. Hulme Co. and Pierrepont Hicks both calling Minnesota home, it was probably a no-brainer for you to set up NorthernGRADE in Minneapolis. How difficult was it getting the out-of-towners like Freeman Transport and Russell Moccasin to join in on the NortherGRADE festivities?
The toughest part was explaining a totally new event and getting the first well known brand  on board. I think it became clear that being a part of event with a committed and united position would  help everyone's place in the market. Ultimately it is a compliment, a badge of honor to make the  Made-in –America invitation list and consumers see that as special.
The event brings some fairly young brands out to play, Pierrepont Hicks included. How refreshing is it to see guys like PH and Taylor Stitch be so passionate about their trade and also be so active in events like this.
MAGNIFICENT. They bring a renewed and fresh spirited appreciation for classics and tradition. It is these people that will make this category a long lasting and viable one. Frankly, you can't expect a movement to have longevity if the only people in it are sitting around in rocking chairs talking about how they miss the "good old days"…"they don't make 'em like they used to". You have to have passionate people that don't see any reason why we can't still "make 'em like we use to".  They ARE making them like we used only better; with style interpretations that make them exciting.
Speaking of old school, Walker Lamond, author of "Rules for My Unborn Son" will be at NorthernGRADE as well. What are your thoughts on what he's accomplished and his approach on life?
I think he really is reminding us that good ideas, solid foundations and traditions only get lost when you let them go. He's doing is part to remind us not to let them go. Walker is an icon in his time.  He's extremely smart and interesting and we are honored he is attending.
If the list of notables attending or the sheer magnitude of this all-Americana event isn't enough to excite you then maybe you'd like to know that the notebook above will be available at NorthernGRADE for purchase from J.W. Hulme Co. Priced comfortably at about $60, we think this beauty's a steal.
Check out NorthernGRADE's blog to get all the info. If you're free on the 11th, we suggest you find a way to get yourself over to the Twin Cities so you can take part in this epic event.