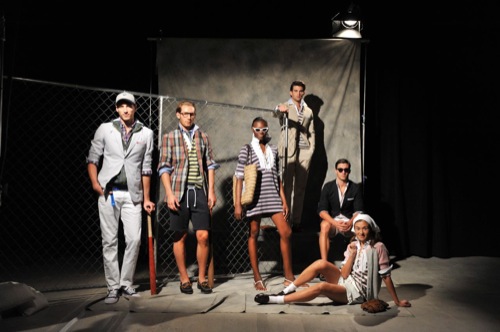 The Spring 2011 season will bring us the second collaborative effort between iconic label GANT and New York-based designer Michael Bastian. If you thought Bastian's skill shined in the brand's Fall 2010 collection, then you haven't seen anything yet. We were on hand for the S/S 2011 presentation and seeing the pieces first-hand really made us appreciate Bastian's work as well as GANT's longstanding history in the menswear spectrum. Their "rebirth" of the past few years really has brought some great pieces to light and bringing Michael Bastian on-board reinforces the brand's current initiatives.
Spring 2011 will bring us plenty of hot items from seersucker suiting to madras blazers and chambray shirting. You can see Michael's dedication to craftsman as no detail is spared. Many of the pieces are remakes of classics from GANT's archives with modern enhancements. The line itself delivers a pretty vast range as there's casual gear alongside more formal wear, giving us a full gambit of items to add to our spring arsenal. Also, the eyewear's all GANT by Michael Bastian and some the frames are just remarkable.
The spring will also deliver GANT's first women's line and we really think it will be well received once it drops. Our female readers (we know you're out there) should definitely check it out and hit us back with some feedback.
More images after the jump.