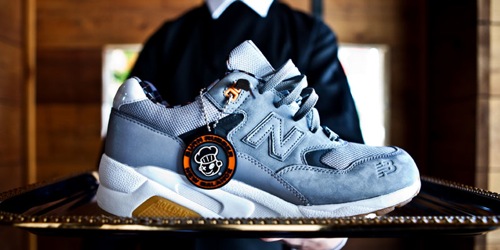 New Balance has always been known for making some pretty comfortable (and affordable) shoes. It's just never been the sneaker of choice as we're always turned to brands doing things a bit differently. The New Balance MT580 is usually released out of Asia with various collaborators but they recently teamed up with Detroit-based sneaker shop Burn Rubber, marking the first time such a collaboration has been brought through by the New Balance America team.
Burn Rubber's rendition of the MT580 is really something special, as they really tackled the details and made the show their own by applying a shop colored theme and utilizing materials in ways we didn't expect.
The custom designed argyle pattern that lines the inside of the shoe was created to incorporate all of the company's branded colors. A reflective 3M material, originally developed to reflect light for night running, was also used throughout the mostly gray shoe to give the design another dimension. The majority of the shoe design is comprised of New Balance's premium nubuck and gray mesh, and completed with a touch of patent leather and a classic gum sole.
No word on price yet but look for the Burn Rubber MT580 to be available through Burn Rubber (website and in-store) on November 26th.